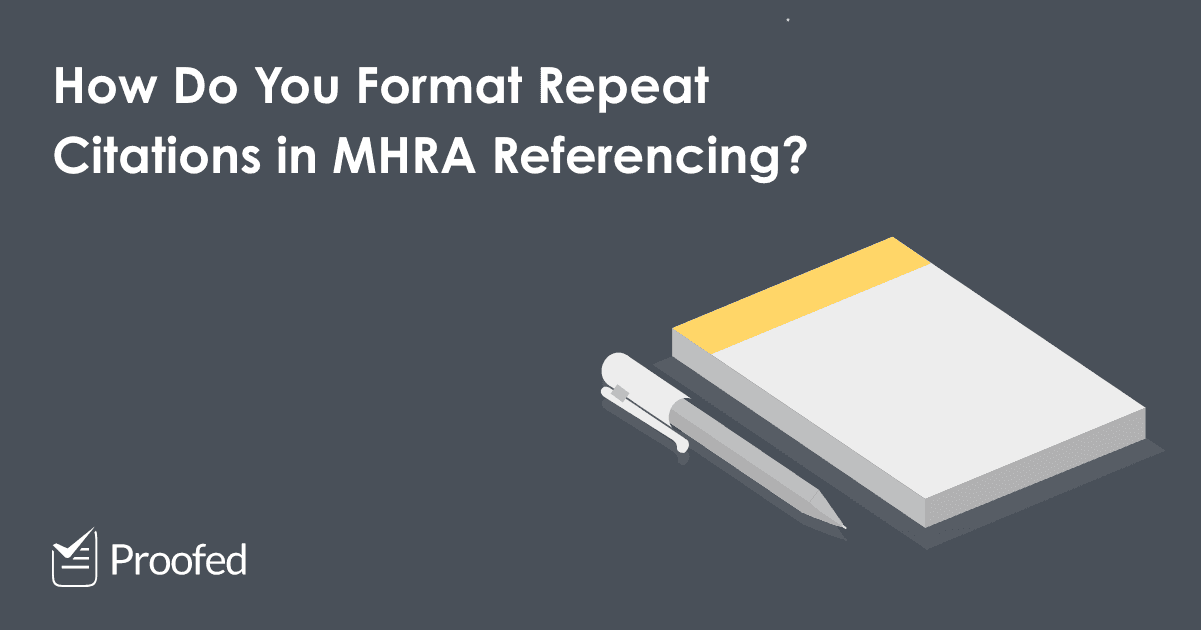 How to Format Repeat Citations in MHRA Referencing
MHRA referencing is a common system in the humanities, so you may have to use it to write an essay. But how do you format repeat citations in MHRA? Here, we look at how to cite the same source more than once.
Repeat Citations in MHRA Referencing
In MHRA referencing, you need to provide full publication information in the first footnote citation of each source. After this, though, you can use a shortened footnote format for repeat citations.
The key here is using the shortest possible form that clearly identifies the source. And this usually means citing the author's name and a page number:
1. Zainab Bahrani, Mesopotamia: Ancient Art and Architecture (New York: Thames and Hudson, 2016), p. 66.
2. Bahrani, p. 94.
Here, for instance, the second footnote cites the same source as the first. And as long as there is only one source by "Bahrani" in the reference list at the end of the document, the surname alone is enough to clearly identify it.
Citing More Than One Source by the Same Author
If you use more than one source by the same author, you should include a shortened title in repeat citations, too. For instance:
1. Sue Roe, In Montmartre: Picasso, Matisse and Modernism in Paris 1900–1910 (London: Fig Tree, 2014), p. 212.
2. Zainab Bahrani, Mesopotamia: Ancient Art and Architecture (New York: Thames and Hudson, 2016), p. 66.
3. Sue Roe, The Private Lives of the Impressionists (London: Vintage, 2007), p. 188.
4. Roe, In Montmartre, p. 298.
Here, for example, we see two sources by "Roe." As such, we have included a shortened version of the source title in the fourth footnote to ensure clarity.
Alternatively, if there is no possible ambiguity about the source, you can just give a shortened title and a page number.
Repeat Citations for Edited Works
For a chapter in an edited book, the first footnote citation should include the full source information for the chapter and the container volume. In subsequent citations, though, you only need the following details:
n. Surname, "Shortened Chapter Title," in Shortened Title of Container Volume, ed. by Editor's name, page range (pinpoint citation).
Find this useful?
Subscribe to our newsletter and get writing tips from our editors straight to your inbox.
In practice, then, a repeat citation for a book chapter would look like this:
1. Amber Jamilla Musser, "All About Our Mothers: Race, Gender, and the Reparative," in After Queer Studies: Literature, Theory and Sexuality in the 21st Century, ed. by Tyler Bradway and E. L. McCallum (Cambridge: Cambridge University Press, 2019) pp. 122–136 (p. 127).
2. Musser, "All About Our Mothers," in After Queer Studies, ed. by Bradway and McCallum, pp. 122–136 (p. 129).
Frequently Cited Sources in MHRA
Sometimes, you may need to cite a single source repeatedly in a document (e.g., if you're critiquing a book). In this case, it is simpler to cite the source in full once, then give pinpoint citations in the main text.
To do this, add a note to the first footnote after the citation:
Further references to this [article, book, edition, etc.] are given in the text.
After this, to cite the source again, you can just add page numbers in brackets in the main text rather than adding a new footnote:
We see this in her discussion of "restorative reparations" (p. 81).
Remember, though, that this only works for a single source! If you are citing more than one source repeatedly, you are better off using the standard shortened citation format set out above.
Hopefully, you now feel confident about how to format repeat citations in MHRA referencing. But if you'd like an expert to check the references in your work, we have a team of proofreaders ready to help.
More Writing Tips?
For many students and their families, autumn officially starts once school is back in session....
Trusted by thousands of leading
institutions and businesses