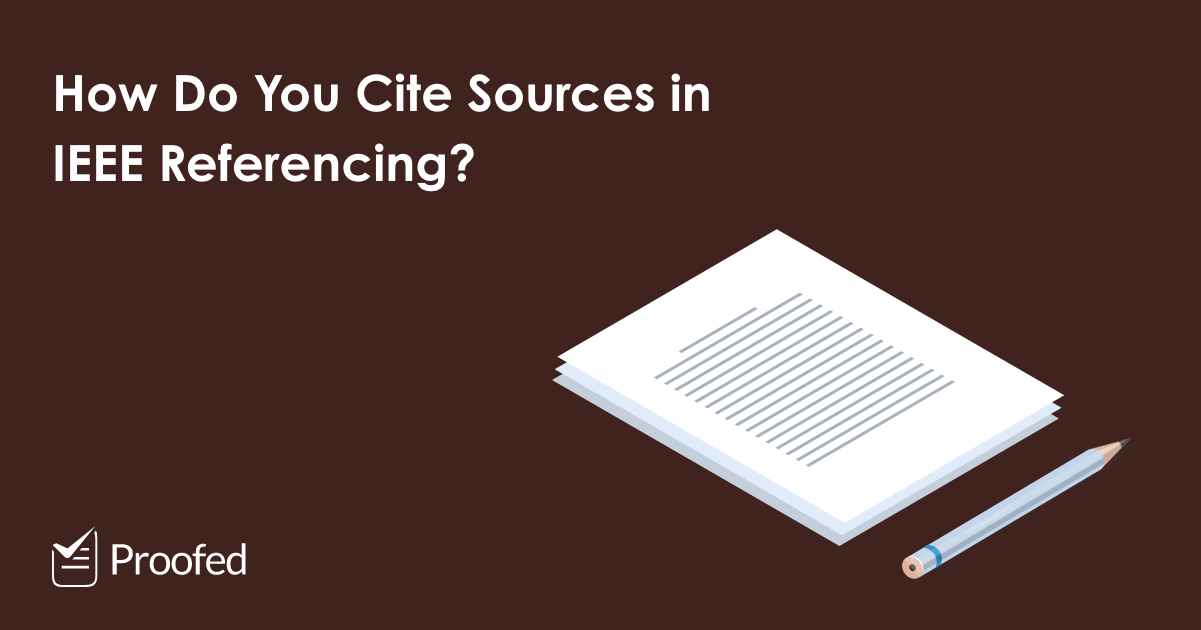 How to Format In-Text Citations in IEEE Referencing
IEEE referencing is common in engineering and other technical subject areas. But how do you format in-text citations in IEEE? In this post, we look at a few of the things you need to know to use this system correctly:
The basic citation format used in IEEE referencing.
How to cite multiple sources in one place in a document.
How to quote sources directly using the IEEE style.
Read on to find out how to use IEEE citations in your written work.
In-Text Citations in IEEE Referencing
IEEE, as set out by the Institute of Electrical and Electronics Engineers, is a number–note system. This means you reference sources via numbered citations in the text. The basic rules are:
Each numbered citation points to an entry in a reference list.
Number sources sequentially in the order you first cite them: i.e., the first source you cite will be the first entry in the reference list, the second source will be the second entry, the third source will be the third, etc.
Use the same number each time you cite a source: e.g., if you cite the first source in your document more than once, you would use [1] each time.
Place citations in square brackets in the main text of the document.
Where relevant, place citations inside commas and periods.
So, for example, the first source we cite in a document would look like this:
The disco fire was caused by faulty wiring [1].
The [1] at the end of this sentence shows the reader we're citing the first source in the reference list. If they then wanted to check our citation, they'd simply need to look up the source details.
You can also use citations in place of a noun in IEEE referencing, such as an author or study name. For example:
As shown by Prof. Valentine [2], there is risk of a high voltage shock.
As shown by [2], there is risk of a high voltage shock.
This is simply a matter of preference. The key factor, always, is that each citation points to the correct entry in your reference list.
Citing Multiple Sources in IEEE
You can also cite more than one source at once in IEEE referencing. The rules for this are similar, but the details depend on the sources you're citing.
For consecutive sources (i.e., sources that follow one another in the reference list), you will need to use an en dash to link the numbers of the first and last sources you are citing. For example:
Many studies have examined why we keep starting fires [3]–[6].
Here, for example, we're citing sources 3, 4, 5, and 6 from the reference list.
Find this useful?
Subscribe to our newsletter and get writing tips from our editors straight to your inbox.
For non-consecutive sources, add a comma between each citation:
Some theorists suggest that desire is to blame [1], [3], [7].
In the sentence above, then, we are citing sources 1, 3, and 7.
You can also combine these approaches as required for a single citation:
A similar fire began in a Taco Bell at the Gates of Hell [1]–[3], [5], [7]–[9].
Note, too, that the dashes and commas in these citations go between the bracketed numbers, not within the brackets themselves.
Quoting Sources in IEEE Referencing
Finally, let's look at how to quote sources in IEEE citations. To do this:
Place the quoted text within quotation marks.
Add a page number or numbers after the citation number and a comma.
So, for example, we could quote a source using IEEE referencing as follows:
One onlooker was seen shouting "Danger! Danger!" [1, p. 33].
To cite more than one page, meanwhile, use "pp." instead of "p.":
The report said that "the accident would not have occurred if modern wiring had been installed in the discotheque" [2, pp. 102–103].
Hopefully, this has clarified all the basics of how to format in-text citations in IEEE referencing. If you have any issues with this system, though, you can either leave a question in the comments below or submit a document for proofreading by one of our expert academic editors.
More Writing Tips?
For many students and their families, autumn officially starts once school is back in session....
Trusted by thousands of leading
institutions and businesses