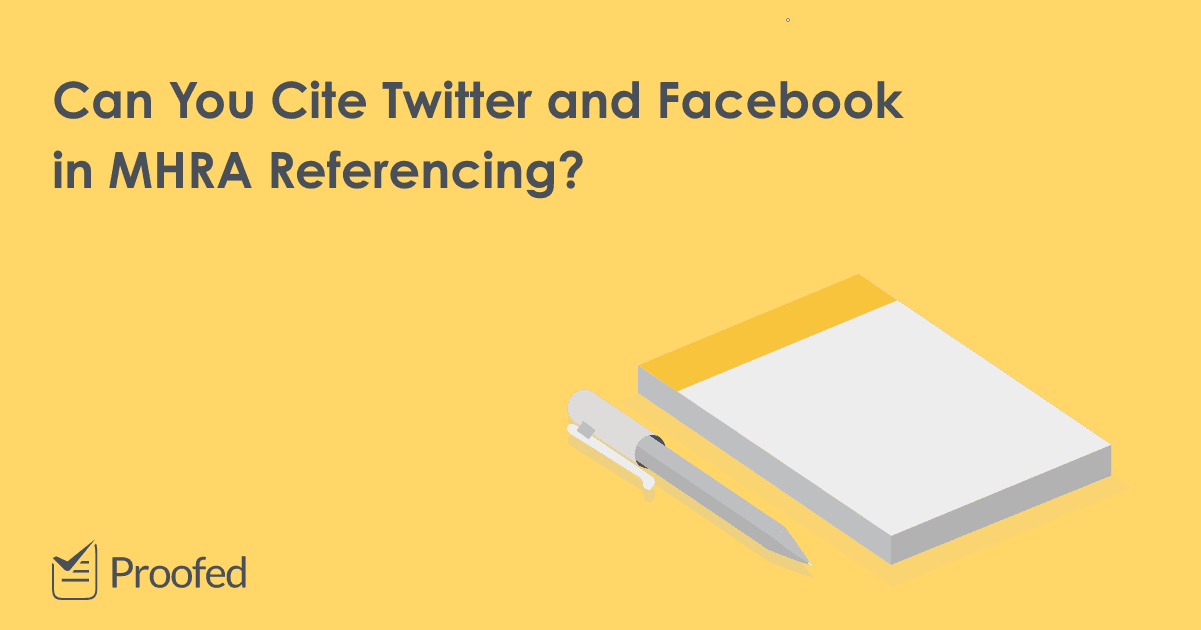 How to Cite Blog Posts and Social Media in MHRA Referencing
Are you using social media or blog posts in your research? It's important to cite these as you would any other source. To find out how to cite social media or blog posts using MHRA referencing, check out our guide below.
When to Cite Blog Posts and Social Media
Before we look at how to reference social media and blogs, let's quickly consider when you might want to use this kind of source in your work.
Social media and blog posts aren't traditional academic sources. If you're looking for factual information, then, we recommend using another source (e.g., a textbook). But social media and blogs can contribute to your research, so it's helpful to know how to reference them correctly.
Footnote Citations for Blog Posts in MHRA Referencing
Citing a blog in MHRA is similar to citing a website: You need to give the author or organization's name and the full URL (make sure to include the "http://"). You also need to give the date you accessed the blog. The first footnote citation of a blog post should therefore use the following format:
n. Author's name, "Title of Blog Post," <URL> [accessed date].
In practice, the first footnote would look like this:
1. Kathleen Fitzpatrick, "We Have Never Been Social," <https://kfitz.info/we-have-never-been-social/> [accessed July 10, 2019].
To cite the same source again, simply give the author's surname, plus an abbreviated title if you've used more than one source by the same author.
Create a Bibliography Entry for a Blog in MHRA Referencing
The bibliography entry for a blog post is similar to your first footnote. Just make these two changes:
The author's surname comes before their first name.
There's no period at the end of the reference list entry.
Your bibliography entry should therefore look like this:
Author's last name, first name, "Title of Blog Post," <URL> [accessed date]
Find this useful?
Subscribe to our newsletter and get writing tips from our editors straight to your inbox.
For example:
Fitzpatrick, Kathleen, "We Have Never Been Social," <https://kfitz.info/we-have-never-been-social/> [accessed July 10, 2019]
Citing Social Media Posts in MHRA Referencing
MHRA has special rules for citing a short social media post on a platform like Facebook or Twitter, including:
Your reference should include the author's username and the date of the post. If the author's username doesn't fully identify them, give their real name and then their username in round brackets.
You don't need to give a URL for social media posts.
Give the post text in full as it appeared in the original. Leave in any spelling errors or abbreviations. Remember to use "sic" to mark reproduced errors.
Leave in any hashtags or handles (i.e., other user names).
Make sure to cite the original poster, not whoever retweeted or shared it.
If necessary, indicate the type of comment in parentheses: e.g., "(tweet)."
For instance, we could cite a full tweet in an essay as follows:
Following violence in Charlottesville, Barack Obama quoted Nelson Mandela in a tweet: "'No one is born hating another person because of the color of his skin or his background or his religion…'" (@BarackObama, August 13 2017).
In this example, the author's identity is clear from their handle, so we don't need to give their full name. And since we provide the full source information here, we would not need a bibliography entry.
If you haven't included the full post in your main text, though, you can mention it in passing and give it in a footnote instead. The key is providing enough information for your reader to find it again.
Variations on Social Media in MHRA Referencing
The advice above is based on the current MHRA Style Guide. However, some universities prefer students to include all sources in the bibliography, even social media posts. As such, you may want to check your school's style guide for additional guidance on citing social media.
And remember: If you need anyone to check references for blog posts and social media, or any other element of your academic writing, you can have it professionally proofread by one of our experts.
More Writing Tips?
For many students and their families, autumn officially starts once school is back in session....
Trusted by thousands of leading
institutions and businesses