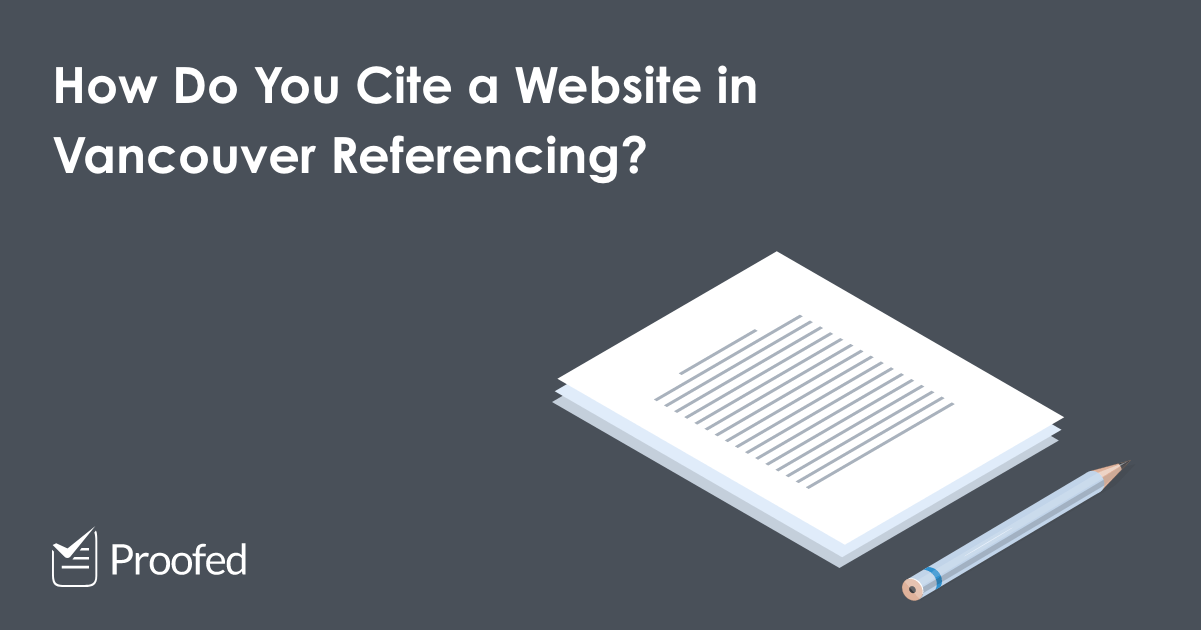 How to Cite a Website in Vancouver Referencing
Soon enough, we'll have the internet built into our brains and we'll be able to link to a website with a mere thought. But until that dystopian future comes to pass, you still need to reference online sources the old-fashioned way.
And since we're on that topic, here are our tips on how to cite a website in an essay when you're using Vancouver referencing.
How to Cite a Website in Vancouver Referencing
Vancouver referencing uses a number–endnote system. This means you provide citations via numbers in the text, with source information saved for the reference list. To cite a source, then, simply write a number in brackets at the end of the sentence. Alternatively, if the author is named in the text, you should provide the number immediately afterwards:
Human consciousness will merge with artificial intelligence (1). Some thinkers warn against this, but Dr. Statt (2) speaks positively of it.
You will need to number sources in the order you cite them in the text. This is also the order you'll add them to the reference list.
In the passage above, for example, the numbers show us that the writer is citing the first and second sources in the reference list.
Websites in a Vancouver Reference List
As mentioned above, Vancouver requires you to ad all cited sources to a reference list at the end of your document. Sources are listed in the same order they're cited in the text.
The format for a website in a Vancouver reference list is:
Find this useful?
Subscribe to our newsletter and get writing tips from our editors straight to your inbox.
(Citation Number) Author Last Name and Initial/Organization. Web Page Title. Available from: URL [Accessed date].
There is quite a bit of information here, so let's break it down:
Author/Organization – Ideally, find the name of the person who wrote the page you're citing. If not, use the organization that publishes the site.
Web Page Title – This should be the title of the specific page you're citing.
URL – The web address for the page you've cited.
Accessed Date – The date of when you last visited the page.
In practice, a Vancouver website reference would look like this:
(1) Statt N. Elon Musk launches Neuralink, a venture to merge the human brain with AI. Available from: https://www.theverge.com/2017/3/27/15077864/elon-musk-neuralink-brain-computer-interface-ai-cyborgs [Accessed 2 April 2019].
Watch Out! Vancouver Variations
There are several variations of Vancouver referencing. Most use a format similar to the one above, but always check your style guide in case your university/publisher has specific requirements.
These may include how citations are presented (e.g., round vs. square brackets) or the information you need to include in the reference list entry.
If you can't find a style guide, just aim for clarity and consistency. And, when you're done, don't forget to have your work proofread.
More Writing Tips?
For many students and their families, autumn officially starts once school is back in session....
Trusted by thousands of leading
institutions and businesses