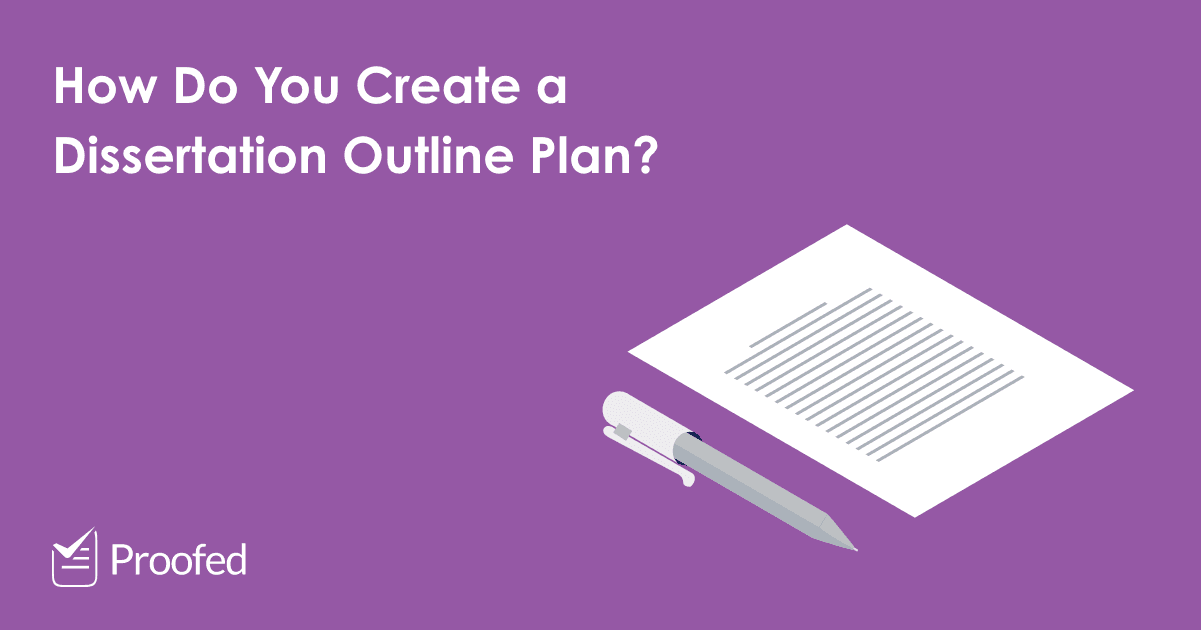 How to Create a Dissertation Outline Plan
Before writing up your dissertation or thesis, it's important to plan everything first. One way of doing this is creating a dissertation plan. This is an outline of what you're going to say in your work. Herein, we set out the main things that most experimental dissertations will include.
Introduction and Rationale
The introductory section is where you set out the general topic being investigated and the specific focus of your research. This will usually include:
The issue you intend to address and its significance.
A succinct statement of your research questions and hypotheses.
Definitions of key terms.
Your basic theoretical assumptions.
Overall, the aim is to give your reader the basic information they will need to follow the rest of your dissertation.
Literature Review
The literature review is where you introduce key thinkers, texts and theories. This section should include:
A concise overview of major issues and controversies in the subject area.
Some information on the current state of research and the most up-to-date work to demonstrate how your research contributes to knowledge.
Theorists whose work you are building upon or modifying.
Studies that challenge your hypotheses or theoretical presuppositions.
This will fully contextualize your work, clarifying its significance.
Methodology
When conducting original research or an experiment, you'll need to provide detailed descriptions of the techniques used. This includes:
Your research approach, study design, and why you have chosen them.
Information about your sampling methods.
Ethical considerations (e.g., consent when working with human subjects).
How you have gathered and analyzed your data.
Potential limitations of the methods you've chosen.
Ideally, you will provide enough information here that a reader could duplicate your study if required.
Results and Discussion
When presenting your results and analysis, link it back to your research questions. This section should also:
Find this useful?
Subscribe to our newsletter and get writing tips from our editors straight to your inbox.
Present and explain data, using charts and graphs where appropriate.
Address each research question and hypothesis with regard to the data.
Discuss statistical results in non-statistical terms.
The key here is to explain what your results show in clear, simple terms.
Conclusions and Recommendations
Here you set out your findings in relation to your initial research question. This will include clarifying the significance of your results and recommendations for further research. Try to:
Briefly summarize your research to help contextualize your conclusions.
Relate conclusions back to your literature review and research question.
Make suggestions for other researchers, perhaps identifying something overlooked by your study.
Think of this section as coming full circle. You return to your initial hypotheses, but this time you discuss them in relation to what you've learned from your research.
Bibliography and Appendices
The bibliography is where you list all cited sources in your dissertation. The rules for this will depend on the referencing system you're using, so make sure to check your style guide.
The appendices, meanwhile, are where you include documentation not needed in the main body of your work. This includes consent forms, questionnaires, additional data, etc.
Finally, remember that most research projects evolve over time, so you should be willing to adapt your initial plan. If you think you're straying too far from it, try talking to your supervisor. For more information about writing a dissertation or thesis, read our full dissertation writing guide. And if you need any assistance checking your dissertation plan, our proofreaders are ready to help.
More Writing Tips?
For many students and their families, autumn officially starts once school is back in session....
Trusted by thousands of leading
institutions and businesses