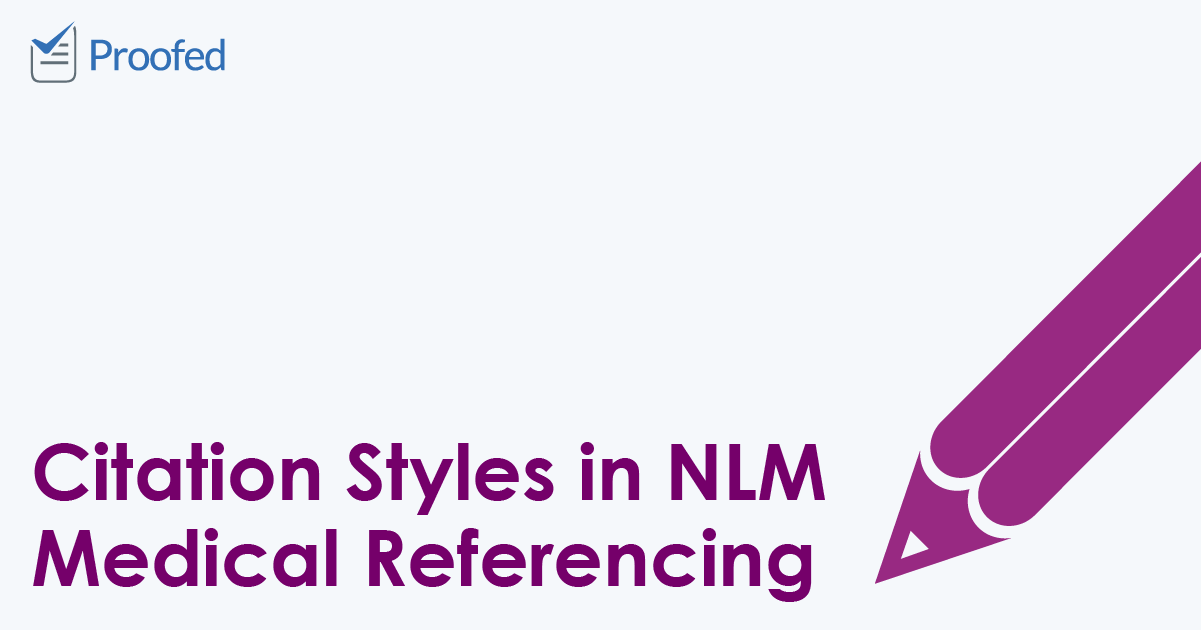 Citation Styles in NLM Medical Referencing
If you are studying medicine, or even writing for a medical journal, you may be asked to use NLM referencing. But this system actually covers three citation styles. As such, we're going to set out some basic guidelines for how to cite sources in NLM referencing below.
Citation Styles in NLM Referencing
When people say "NLM referencing," they're referring to the citation style set out in Citing Medicine: The NLM Style Guide for Authors, Editors, and Publishers. This provides an in-depth guide for how to reference sources in medical writing according to the U.S. National Library of Medicine.
The introduction to this book outlines three citation styles than you can use in medical writing:
Citation-sequence – This style uses numbered citations, with sources listed at the end of your document in the order they are first cited.
Citation-name – This is the same as the citation-sequence style, but sources in the reference list are organized alphabetically by author surname rather than sequentially.
Name-year – This version uses bracketed in-text citations that include the author's surname and the year of publication for the source. Cited sources are then listed alphabetically by author surname in the reference list at the end of your document.
Due to this variation, you should always check which version your college or publisher prefers. Whichever system you use, though, make sure to apply it consistently throughout your writing. In the rest of this blog post, we'll take a look at how to format the citation styles mentioned above.
Citation-Sequence Referencing
NLM's citation-sequence referencing style is a version of Vancouver referencing. Essentially, each citation number in the text points to a source in the reference list, like this:
The treatment was effective for 80% of patients.1
All sources are numbered in the order they are first cited. The superscript "1" at the end of the sentence above, for instance, would point to the first source in the reference list. If we were then to cite the same source again later, we would repeat the same number as on the first citation.
We've used a superscript number above as this is a common style for in-text citations. However, Citing Medicine does not specify a formatting style. As such, different schools and publishers may use different citation styles. We could also cite the source above in brackets, for example:
The treatment was effective for 80% of patients (1).
Find this useful?
Subscribe to our newsletter and get writing tips from our editors straight to your inbox.
As such, you should check how your institution prefers to format citations.
Citation-Name Referencing
The only difference between citation-name referencing and citation-sequence referencing is that sources are organized by author surname in the former. For example, if we were to cite "Allen" and "Smith" in a paper, we would number them "1" and "2" respectively because "Allen" comes before "Smith" alphabetically. This applies even if we cite "Smith" first:
Smith2 has shown that regular exercise can prevent some serious conditions. However, Allen1 has challenged Smith's methods, so there is still some debate over the issue.
We've used superscript numbers again here. As above, though, remember to check how your school or publisher prefers to format in-text citations.
Name-Year Citations
NLM's name-year citations are a version of Harvard referencing. This means that we cite sources by giving the author's surname and a year of publication in brackets. For example:
The treatment was effective for 80% of patients (Smith 2014).
Here, we see that the source cited is by "Smith" and that it was published in 2014. We would then give the full source information in the reference list at the end of the document.
More Writing Tips?
Among and between are both prepositions used to describe how objects, people, or things relate...
Trusted by thousands of leading
institutions and businesses