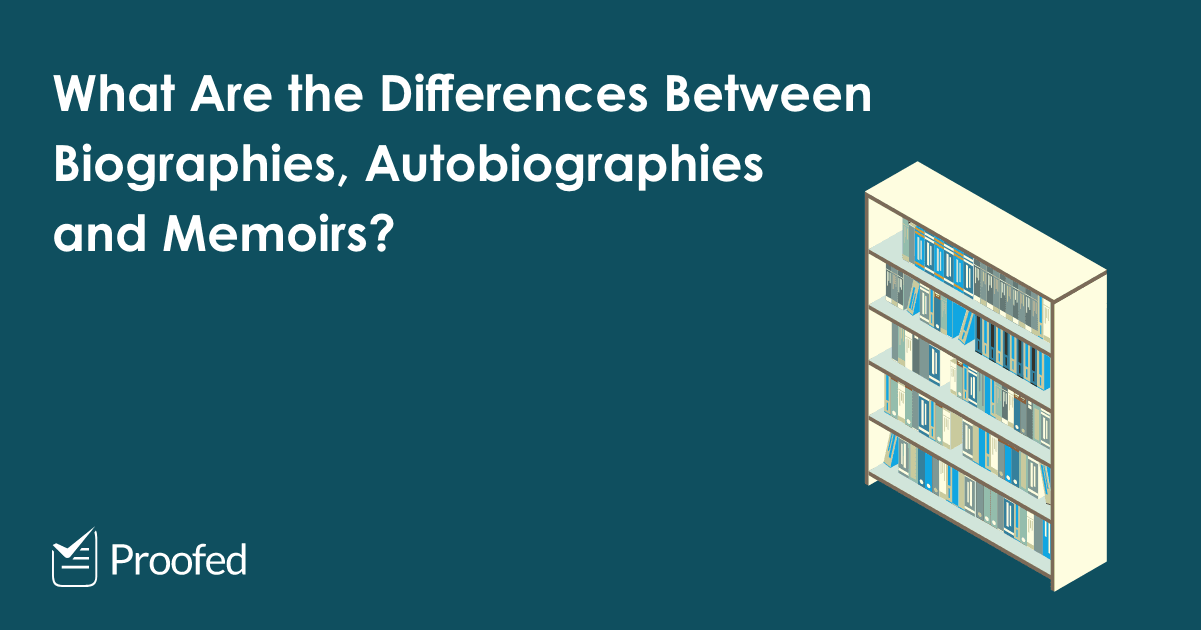 Author Tips: Biographies, Autobiographies and Memoirs
Biographies, autobiographies and memoirs are types of narrative non-fiction that tell a person's real-life story. And though these formats are similar in some ways, it's important to know the differences, too:
Biographies tell a person's whole life story, but they are written by someone other than the subject.
Autobiographies tell a life story from the point of view of the author.
Memoirs are also told from the point of view of the author, but they focus on a specific part or aspect of that person's life.
In this guide, we delve deeper into these three distinct forms of writing.
Biographies
Biography literally means life (bio) writing (graphy). As such, biographies tell the true story of an individual's life, usually a historical or public figure. However, they are not written by that same person.
Instead, the author (known as the "biographer") will draw on all the available material about their subject, such as diaries, letters and interviews, to create a factual, objective narrative written in the third person.
Biographical writing is also one of the oldest forms of literature: the Ancient Greeks and Romans wrote biographies of their leaders and scholars.
Examples of Famous Biographies
Parallel Lives by Plutarch (written in the second century AD) –

A series of biographies that compare famous Greeks and Romans.

The Life of Samuel Johnson by James Boswell (1787) – An influential account of English writer Samuel Johnson's life.
Alexander Hamilton by Ron Chernow (2004) – A modern biography of American statesman Alexander Hamilton (later the main inspiration for the smash-hit musical Hamilton).
Autobiographies
"Auto" means "self." And as the name suggests, an autobiography is a self-written biography (though many are written with the help of a collaborator or ghost writer). Typically, autobiographies will cover the author's full life so far, starting at their childhood and ending at the point the book is written.
Because the author is the main character, autobiographies are usually written in the first person. And since they are often based on memory, they can be quite subjective accounts. They can also be unreliable, since authors may misremember or even deliberately misrepresent something.
You may also come across fictional autobiographies. These are works of narrative fiction that present themselves as autobiographies of the main character (e.g., David Copperfield by Charles Dickens).
Find this useful?
Subscribe to our newsletter and get writing tips from our editors straight to your inbox.
Examples of Famous Autobiographies
Confessions by Saint Augustine (AD 397–400) – An early autobiographical work in which Saint Augustine of Hippo examines his youthful sins and eventual spiritual awakening.
Long Walk to Freedom by Nelson Mandela (1994) – The story of Nelson Mandela's life, including his struggles against apartheid, his imprisonment, and his eventual rise to become president of South Africa.
Me by Elton John (2019) – A recent autobiography by a pop star.
Memoirs
Like autobiographies, memoirs are a type of first-person life writing. But a memoir will cover specific events or times in the author's life, not the whole thing. Alternatively, memoirs may focus on a theme, such as illness or addiction, that reoccurs throughout the author's life.
Other differences between memoirs and autobiographies include:
Autobiographies are chronological, but memoirs may be less linear.
Memoirs are about personal experience, so they may dramatize events and are typically less concerned with objective facts.
Biographies and autobiographies tend to focus on major public figures, whereas memoirs are more likely to be written by "ordinary" people.
This last point is important, as many memoirs focus on triumph against adversity or surviving difficult situations. This type of memoir became so popular in the late 1990s it became known as "misery lit."
A warning, though! Not every story that calls itself a memoir is a memoir: Memoirs of a Geisha is definitely a novel!
Examples of Famous Memoirs
Commentaries on the Gallic Wars by Julius Caesar (58–49 BC) – A first-hand account of the years Caesar spent fighting in Gaul. Although written in the third person, many consider it an early memoir.
Angela's Ashes by Frank McCourt (1996) – A look at the author's childhood, especially his family's struggles with poverty.
Eat, Pray, Love by Elizabeth Gilbert (2006) – A chronicle of what the author learned during a year spent travelling after her divorce.
We hope that this has explained the differences between biographies, autobiographies, and memoirs. And if you'd like anyone to help with proofreading something you wrote, we have expert editors available 24/7.
More Writing Tips?
For many students and their families, autumn officially starts once school is back in session....
Trusted by thousands of leading
institutions and businesses