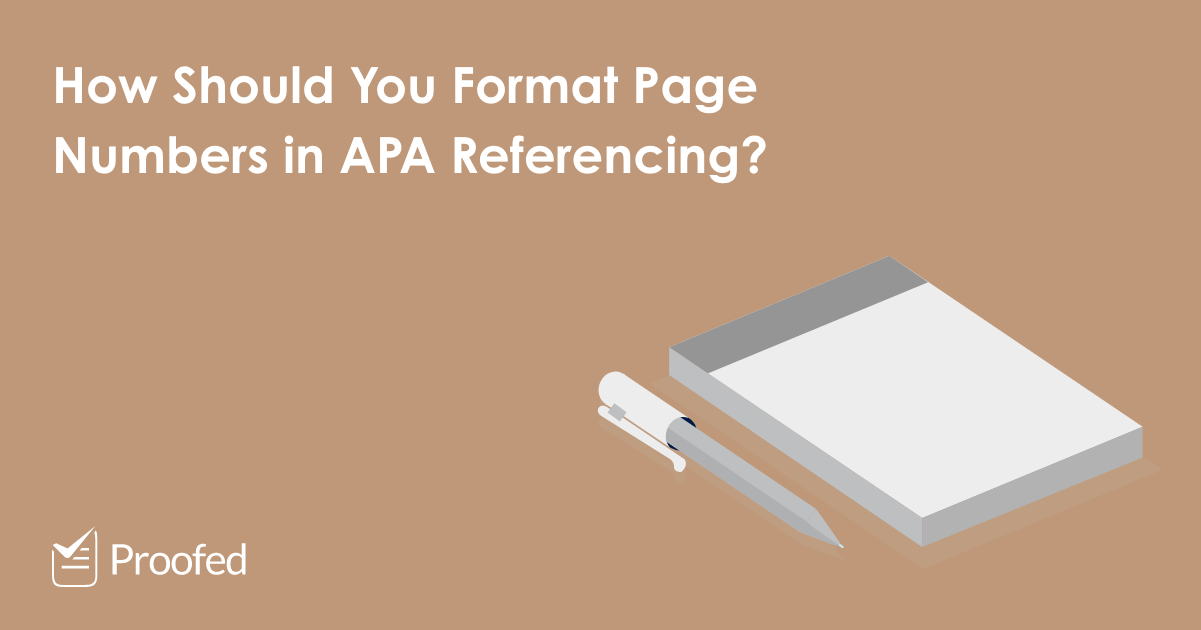 A Guide to Page Numbers in APA Referencing
APA referencing is a common citation system in academic writing. But when should you include page numbers when citing a source? How should you present them? And what can you do when a source has no page numbers to cite? Check out our guide to find out.
When to Give Page Numbers in APA Referencing
According to the APA's official style guide, there are two situations when you might want to include a page number (or page numbers) in a citation:
When quoting a source directly (i.e., using another author's exact words). In this case, APA requires you to include page numbers (if available) to pinpoint the location of the quoted text.
When paraphrasing a source (i.e., presenting an author's ideas in your own words). In this case, the page numbers are optional, though it is usually better to include page numbers for the section paraphrased.
In an APA reference list, meanwhile, you should include a page range when a source is part of a larger work that does not include volume numbers (e.g., you would usually need them for a book chapter). For more on individual source types, check out our other APA referencing posts.
Here, though, we'll look at how to present page numbers in your writing.
How to Present Page Numbers
In APA style, there are some basic rules for presenting page numbers:
Always write page numbers using the same style as in the original source (this will usually be Arabic numerals, but some sources use Roman numerals for front matter such as prefaces and introductions).
Use "p." before a single page number and "pp." before page ranges.
Use an en dash to indicate a page range (e.g., "pp. 18–24").
These rules apply for both citations and entries in the reference list when the reference format includes an abbreviation before page numbers.
In terms of placement, when the author's name is part of a citation, give the page number(s) in the same set of brackets, after the year and a comma:
Quoting sources is "easy when you know how" (Smith, 1998, p. 45).
Find this useful?
Subscribe to our newsletter and get writing tips from our editors straight to your inbox.
However, when an author is named in the text, give the year immediately afterwards, then give the page number(s) after the quote or paraphrase:
Smith (1998) says quoting sources is "easy when you know how" (p. 45).
In either case, the aim is to indicate the part of the source you're citing.
Sources Without Page Numbers
Not every source has page numbers (e.g., websites and other digital content). But APA still requires you to pinpoint the part of the source cited if possible. Luckily, there are several ways to do this in APA style, including:
Citing paragraph number(s) (e.g., "para. 2" or "paras. 2–4"). This is most useful if the source has numbered paragraphs already, but you can also count the number of paragraphs from the beginning of the document.
Giving a chapter or section title and a paragraph number. This is useful in complex documents where a paragraph number alone isn't enough.
Citing a table or figure number for the relevant visual element.
Using a time stamp for audiovisual sources, such as videos.
Giving a slide number if citing a presentation or slideshow.
In addition, if a source has its own pagination system (e.g., Stephanus numbers if you're citing a work by Plato, or chapter and verse numbers in the Bible), you can use this in place of regular page numbers.
Whichever approach you choose, though, the key is picking a citation style that will help your readers find the parts of the sources you're citing.
Expert APA Proofreading
We hope this post has helped you with the basics of page numbers in APA referencing. But if you'd like any extra help checking the references in an essay, with have APA experts available to proofread your writing. Submit a trial document today to find out how our services work for free.
More Writing Tips?
Among and between are both prepositions used to describe how objects, people, or things relate...
Trusted by thousands of leading
institutions and businesses