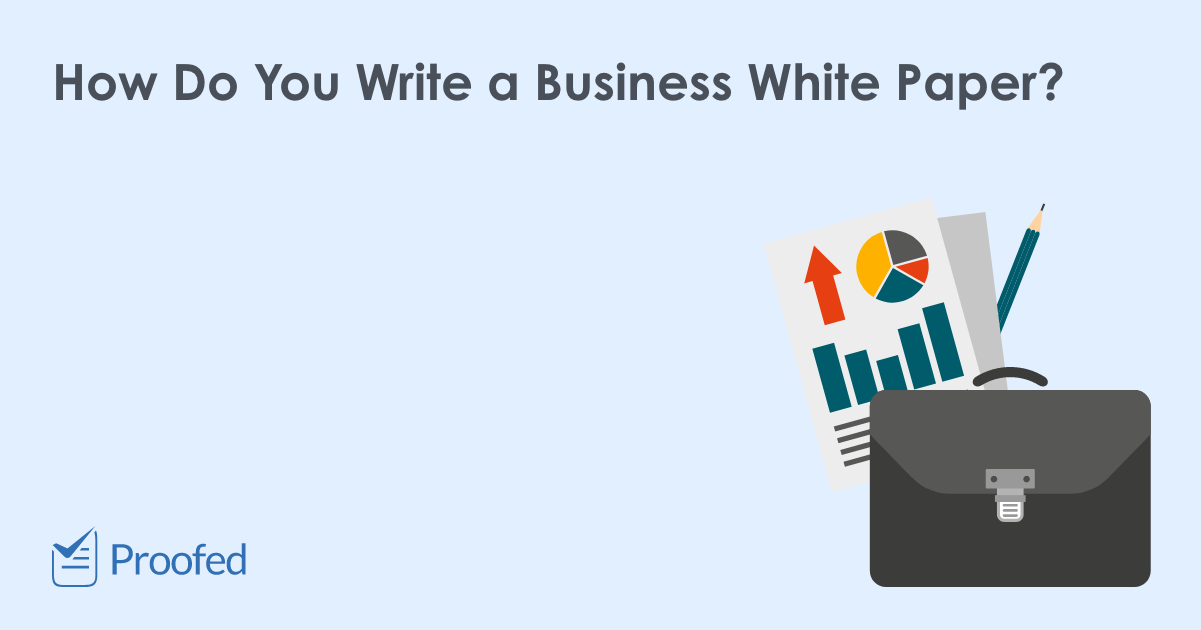 5 Top Tips on How to Write a White Paper for Your Business
A white paper is an in-depth guide or explanation about a specific topic or problem. And this can be a great way for businesses to establish credibility among customers and clients. But how can you create white papers that people want to read? Our top tips include:
Pick a topic that reflects your audience and expertise.
Find an angle where you can offer a solution to a problem your readers may face, with a strong emphasis on value creation.
Use a clear, coherent structure. This will include a short executive summary at the beginning of the paper, plus bookending your main argument or research with a strong introduction and conclusion.
Maintain a professional tone throughout. This should be fairly formal, almost academic sounding, compared to most content marketing.
Proofread your white paper to ensure it is easy to read and error free.
For more information on how to write a white paper, read on below.
1. Select a Topic
There are two key factors when selecting a topic for a business white paper:
Your Audience – Who are you writing for? What problems do they face? It is worth researching your clients, customers and other stakeholders.
Your Knowledge – What does your business specialize in? What are your areas of expertise? Try to think of subjects where you are an authority.
It is also worth reading existing white papers to see what others in your industry are writing about and where you could offer something new.
2. Offer a Solution and Emphasize Value
The aim of most white papers is to do one of two things:
Provide in-depth information about a product, service or methodology.
Identify a problem your audience may face and explain the solution.
In both cases, the key is to give the reader something of value.
If you're explaining a product or service, stress its benefits. If you're discussing a problem, explain why your solution is the best one available. This doesn't mean you should directly promote your business. Rather, the value lies in building trust with the reader by giving them useful information.
Find this useful?
Subscribe to our newsletter and get writing tips from our editors straight to your inbox.
3. White Paper Structure
Most white papers use a basic structure along the following lines:
Heading – A title that clearly sets out what the reader will learn.
Executive Summary – A summary of what your paper is about (around 200 words). Treat this like a "pitch" for why someone should read the rest.
Introduction – A section that provides the information needed to follow the paper, including the problem you're addressing and how you'll solve it.
Main Body – A series of paragraphs offering a detailed description of your research or argument. Use subheadings to guide the reader, with each section covering one main point. You may also want to use illustrations, charts, or text boxes to emphasize key points and keep readers engaged.
Conclusion – A final section where you summarize the key conclusions from your white paper, possibly including a call to action if it is relevant.
There is room for variation here (e.g., some include a bibliography or reference list at the end). But make sure to plan the structure before you start writing so the finished paper has a clear through line.
4. Maintain a Professional Tone
Tonally, white papers are closer to academic writing than blog posts or other forms of content marketing. They should sound formal, authoritative and professional. This means you should:
Use technical language where necessary, but not overuse jargon.
Avoid informal terms such as slang and contractions.
Be as clear and concise as possible, keeping your audience in mind.
Sound confident rather than hedging everything you say.
Not sound too "salesy" (the aim is to establish trust with the reader so they will use your company in the future, not to sell something to them directly).
Avoid unnecessarily gendered or otherwise biased language.
This "academic" writing style will help you communicate a sense of authority.
5. Proofread Your White Paper
Finally, don't forget to have your white paper proofread! A document filled with typos or errors will undermine the expertise you're trying to project, so you need to make sure your paper is perfect before making it public.
And while you can do this yourself, it makes more sense to have a business writing expert – like the editors at Proofed – handle this work for you.
More Writing Tips?
In today's digital age, engaging and interactive presentations are a great way to capture your...
Trusted by thousands of leading
institutions and businesses