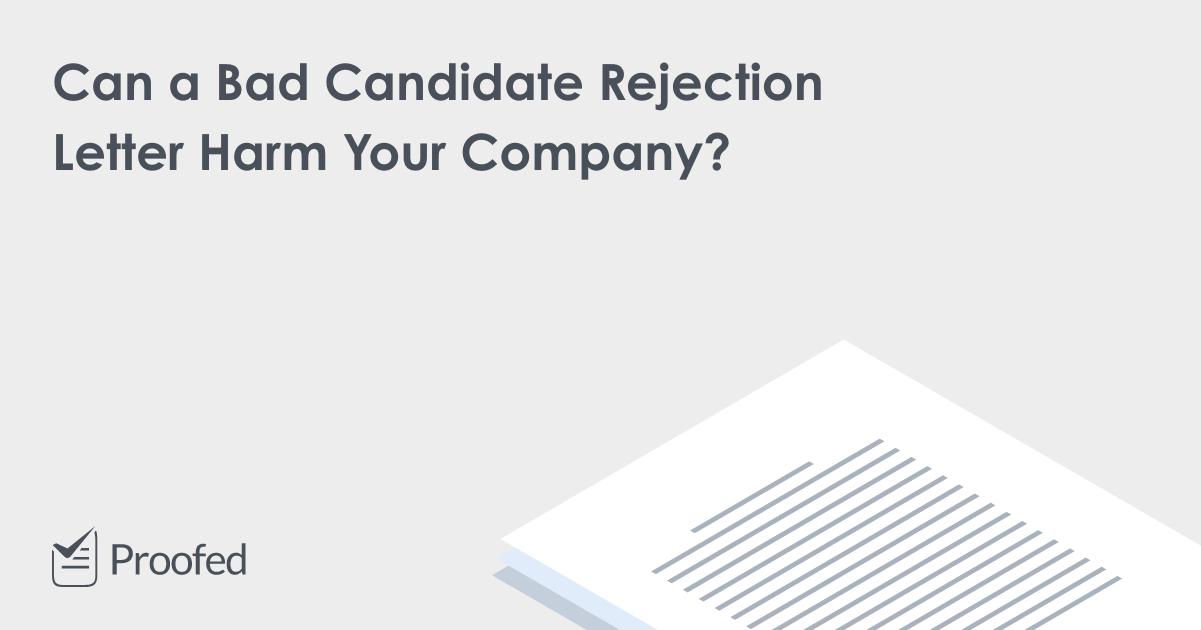 5 Tips on How to Write a Candidate Rejection Letter
If you are an employer, a well-written candidate rejection letter can help to:
Show you appreciate the effort the candidate has made to apply.
Stop rejected candidates feeling resentment towards your business.
Stop rejected candidates emailing you seeking a response.
And with sites like Glassdoor enabling people to share their experiences of companies' recruitment processes online, it is more important than ever to respond to unsuccessful candidates in a timely manner.
In the rest of this post, then, we'll provide some tips on how to write a strong candidate rejection letter for your company.
1. Personalize Communication
To ensure candidates feel you have taken the time to get in touch with them specifically, always personalize your correspondence. You can do this by:
Referring to the candidate by their name.
Specifying the position to which they applied.
Providing brief feedback about their application/interview.
Furthermore, if a candidate gets as far as the interview stage, it is more polite to call and speak with them directly than to reject them by email.
2. Thank the Candidate, But Be Direct
Thanking candidates for their interest in your company shows that you appreciate the time they took to apply. At the same time, though, you shouldn't dance around the fact that you're writing to reject their application.
As such, try to be polite but direct. For example, the first lines of your candidate rejection letter could say something like:
Thank you for applying for the position of senior programmer. Unfortunately, we have not selected you for further consideration at this time.
This immediately (but politely) lets the reader know that they haven't got the position. You can then go into more detail as desired (e.g., by giving feedback or praising their good qualities), but it saves the candidate from having to scour the full letter to find out whether they've been successful.
3. Provide Feedback, But Not Too Much
You can add value to a candidate rejection letter by including constructive feedback. This can show the candidate you took them seriously and even help them find work, thus improving their impression of your company.
Don't feel like you have to provide in-depth feedback, though, as this would be very time-consuming. Instead, try to focus on one or two key points.
Find this useful?
Subscribe to our newsletter and get writing tips from our editors straight to your inbox.
Another good tip is framing feedback positively, such as by focusing on their strengths as well as how they could improve. For example:
We were impressed by your passion for computing and your knowledge of the web development industry. At this time, though, we are looking for a candidate with a qualification at master's level or higher. This is a something you may wish to pursue, as many roles of this type require it.
Here, we've praised the candidate and clearly stated why they weren't picked for the role, but we've also offered a practical suggestion to help out.
4. Wish the Candidate Well
To close the letter, thank the applicant again and wish them good luck in their job search. This leaves a positive lasting impression of your company.
You could even invite them to provide feedback on their experience, which may help your company to improve its recruitment process in the future.
5. Have It Proofread!
Before sending your candidate rejection letter, make sure it is clear and error free. This, again, will show that you take candidates seriously, as well as demonstrating your company's professionalism.
Why not try our free sample service to see how we can help?
Summary: How to Write a Candidate Rejection Letter
To write a strong candidate rejection letter, you should:
Refer to the candidate by name and personalize each rejection letter.
Thank the candidate for applying to your company, but be direct.
Provide a small amount of constructive feedback.
Wish the applicant good luck in their job search.
Make sure your letter is 100% error free before sending.
This should help you let applicants down gently, as well as ensuring your company develops a good reputation for its recruitment practices.
More Writing Tips?
Understanding the role of words in language is fundamental to effective communication. Pronouns are a...
Trusted by thousands of leading
institutions and businesses