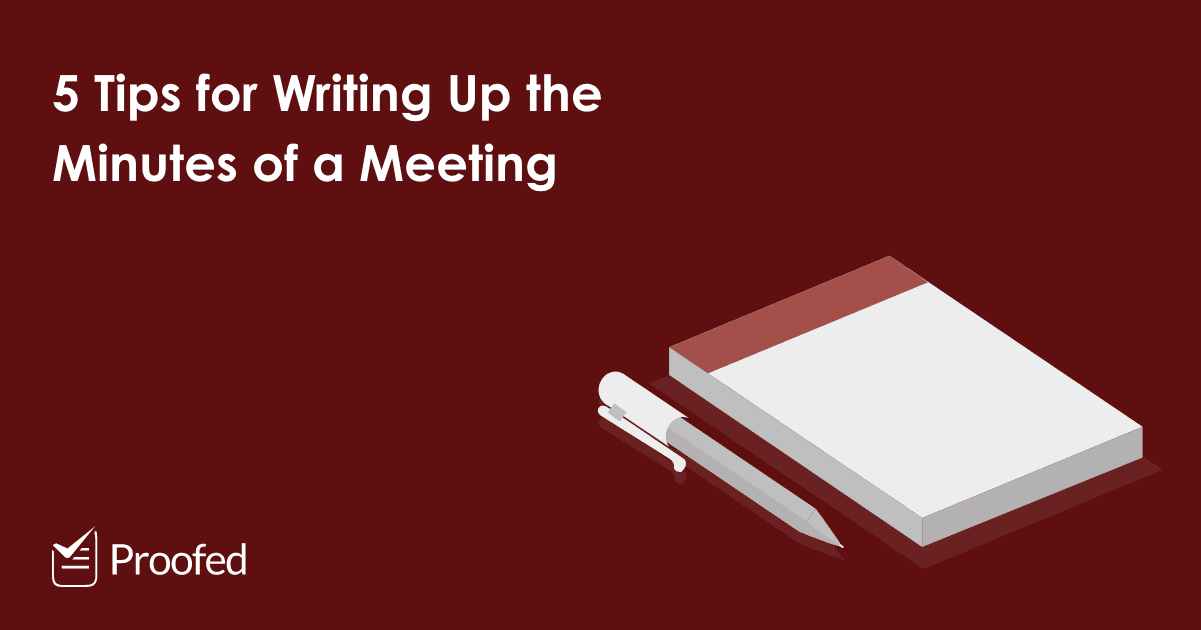 5 Tips for Writing Up the Minutes of a Meeting
You may need to take minutes as a record of the actions taken and decisions made at a meeting. And if so, you'll want them to be clear, concise and accurate. But how can you ensure this? In this post, we share our top tips for taking and writing up the minutes of a meeting, including:
Make sure to prepare for the meeting and create a template.
Arrive early so you can set up before the meeting starts.
Take clear, concise notes during the meeting.
Write up your minutes as soon as the meeting finishes.
Have your minutes proofread to make sure they're error free.
For more advice on all the above, check out our guide below.
1. Prepare for the Meeting
If possible, make sure to read the agenda and any supporting documents before the meeting. This will give you a sense of what the meeting will cover, which means you can prepare an outline in advance.
It's possible your employer will already have a template for meeting minutes (i.e., a standard form that you can fill out when you write up the minutes for a meeting). If so, feel free to use and adapt this. But if you don't have one, you'll want to create an outline. This should include:
The meeting type and purpose (e.g., Weekly Team Meeting).
The time, date and location of the meeting.
Names of those leading and attending the meeting.
Any other information you can fill in based on the agenda (though make sure to leave space to fill in the details once the meeting is over).
This preparation will minimize the note taking you have to do on the day.
2. Arrive Early
Arrive early for the meeting so that you have time to set up before it starts. This will save you from feeling rushed, as well as letting you check the names of attendees against the list on the agenda as they arrive.
If you take notes on paper, moreover, make sure that you have a couple of spare pens. And if you're using a computer to take notes, make sure you have somewhere to plug it in (or at least a full battery).
Find this useful?
Subscribe to our newsletter and get writing tips from our editors straight to your inbox.
3. Take Notes During the Meeting
When taking notes during a meeting, make sure to record:
Corrections and amendments to previous meeting minutes.
The discussions that take place and decisions made.
Who will implement decisions and the actions required.
When the meeting ends and plans for the next meeting.
However, the minutes of a meeting are not a word-for-word transcription of what gets said. Instead, they are a summary of the points discussed and decisions made during the meeting. As such, you should keep your notes simple and only record things that are minute-worthy.
4. Writing Up the Minutes
As soon as the meeting finishes, you'll want to start writing up your minutes. This will ensure they're still fresh in your main, as well as letting you distribute them quickly. Key tips for the writing up stage include:
Use plain, simple language and write all minutes in the past tense.
Focus on facts, not opinions expressed during the meeting.
Include the names of people who raise or second motions.
If you are unsure about anything in your notes, contact the meeting leader or the person who spoke and check the facts before writing it up.
This will help ensure that you have a clear, helpful set of minutes.
5. Proofread Your Minutes
Finally, before you distribute the minutes you've written up, make sure to proofread them. This will help ensure they're unambiguous and error free. And if you'd like any extra help with this stage of the process, don't forget we have professional proofreaders available 24/7.
More Writing Tips?
For many students and their families, autumn officially starts once school is back in session....
Trusted by thousands of leading
institutions and businesses