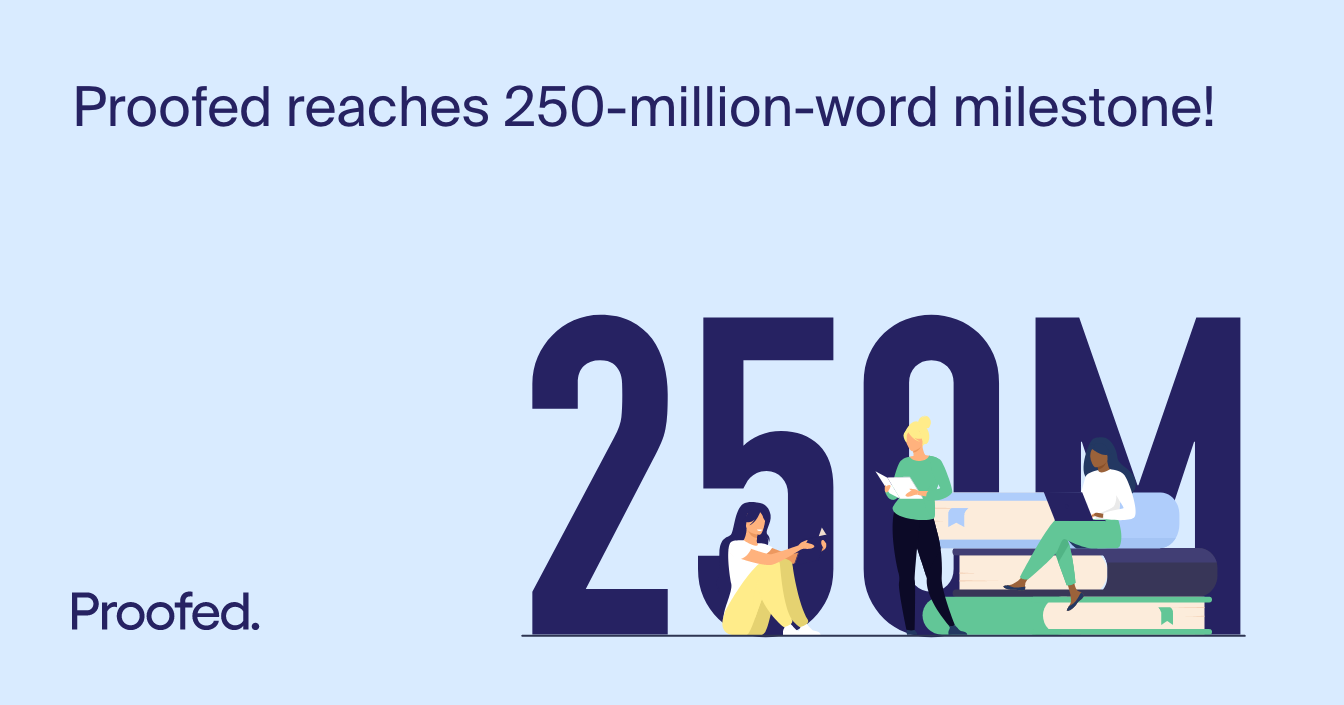 Proofed Reaches 250-Million-Word Milestone!
As the company continues to grow, the 500-million-word mark is next.
Proofed's expert editors have now reviewed more than 250 million words in tens of thousands of documents for customers around the world, cementing our status as one of the fastest growing and most trusted service providers in the world of proofreading and editing.
For a sense of scale, 250 million words are almost 200 times more than what you'll find in Marcel Proust's seven-volume In Search of Lost Time, the Guinness World Record holder for the longest novel in history, approximately 280 times more words than the complete works of Shakespeare and almost 450 times more than the Lord of the Rings trilogy.
To put it another way, over the years, we've checked quite a large number of words, made corrections and provided feedback to help writers clearly communicate their ideas in everything from educational materials and advertising copy to personal emails and full-length novels. Additionally, with the Proofed platform now supporting more than 15 common document formats, we've also become more flexible.
Find this useful?
Subscribe to our newsletter and get writing tips from our editors straight to your inbox.
The success of our Writing Tips blog makes our status as a proofreading and editing authority abundantly clear, with more than 60,000 monthly readers who come to us for advice on every aspect of writing, from spelling tips to detailed guides on different document types. We're confident that you won't find a better resource for free writing advice anywhere online.
Despite how far we've come, we're not yet ready to rest. Our team of editors continues to grow at pace, thanks in part to our outstanding freelancer training and support systems. And this means that we are already on schedule to pass the 500-million-word mark in 2021.With our affordable prices and unbeatable turnaround times, Proofed is the best choice for getting your documents edited and proofread. Get in touch today—or simply upload a document to our system and select a service—to find out how Proofed can help you with your writing.
More Press Releases?
AI-generated content is here and it's revolutionizing content production. But getting that content reviewed and...
Trusted by thousands of leading
institutions and businesses