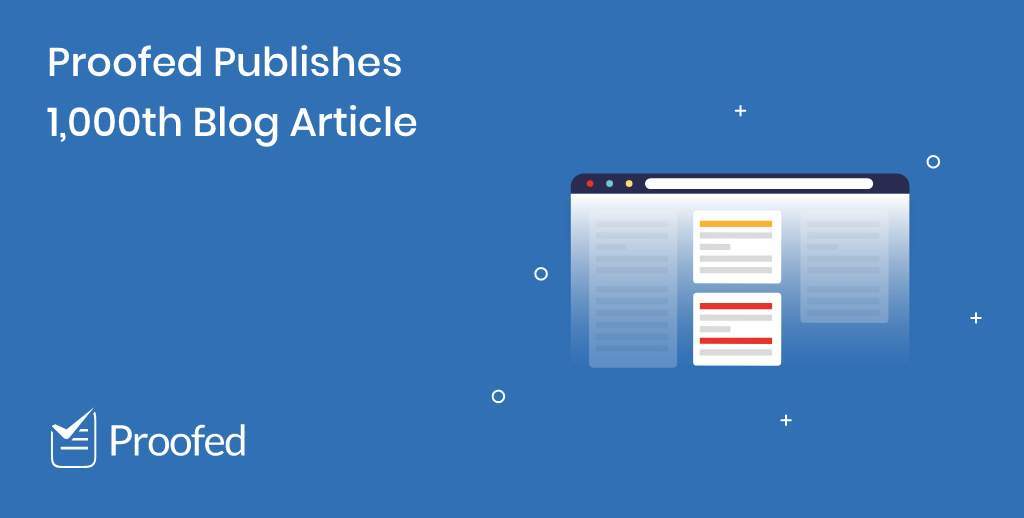 Proofed Publishes 1,000th Blog Article
Blog offers an extensive collection of writing tips.
Proofed has recently published the 1,000th post on its Writing Tips blogs, demonstrating its continued commitment to helping people improve their English writing skills.
We set up our Writing Tips blogs because we noticed that certain errors occur frequently in the documents we proofread. Having a blog allows us to explain how to spot and fix these errors. We can then link to posts when we leave feedback in a document, offering detailed information for those who want to learn more.
The blog covers a range of topics, including:
Spelling, grammar, and punctuation tips
Vocabulary and word choice
Academic writing and referencing
Creative writing, from poems to plays
Business writing and professional documents
Formatting in Microsoft Word
We also let our blog writer, David Standen, indulge his creative urges now and then.* So keep an eye out for posts with interesting etymology tidbits and even short stories.
Find this useful?
Subscribe to our newsletter and get writing tips from our editors straight to your inbox.
Proofed Co-Founder and CEO Adam Harvey says, "We're very proud of our blogs, as they offer a brilliant resource for anyone who needs help with their writing. This includes our customers, who often tell us that they used the advice in our posts. We'd also like to say a special thank you to David for being our English language guru and running our content creation."
Posts are published most days on our US, UK, and Australian sites, so don't forget to check for the latest articles. You can see when we publish a new post by following Proofed on Facebook and Twitter. And if there are any topics you would like to see us write about, let us know by contacting us at info@getproofed.com.
* If we make him write about commas and referencing systems for too long without giving him a break, his eyes glaze over and he stares into space until someone brings him cake.
More Press Releases?
AI-generated content is here and it's revolutionizing content production. But getting that content reviewed and...
Trusted by thousands of leading
institutions and businesses