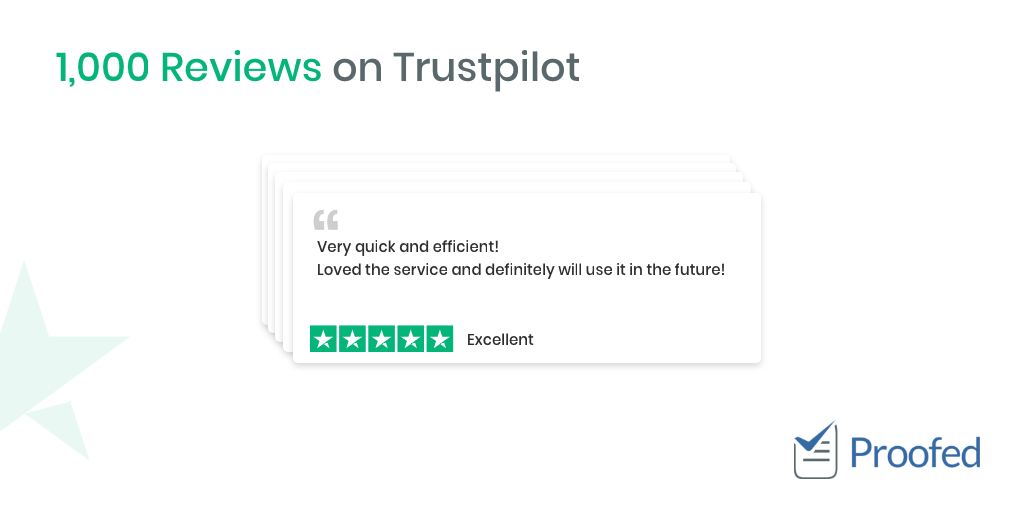 Proofed Hits 1,000 Reviews On Trustpilot
We would like to thank our amazing customers!
If we had to review our customers on Trustpilot, it might go like this:
Thank you for being brilliant! 

We've proofread thousands of documents since we signed up to Trustpilot last year, and the feedback we've received has been great. In fact, between our US, UK, and Australian sites, we've now received over 1,000 reviews on Trustpilot, most of them overwhelmingly positive!
Find this useful?
Subscribe to our newsletter and get writing tips from our editors straight to your inbox.
Our service has been described as "precise, clear, and fast," "immensely helpful," and even "perfect" on Trustpilot, which is very flattering! But even the reviews that haven't given us five out of five stars have been incredibly valuable, as we're always looking to respond to feedback and improve our services.
Kiran Chauhan, Co-Founder and COO of Proofed Inc., is especially pleased with the feedback so far, saying "Trustpilot has been an amazing way to hear about our customers' experiences, allowing us to iteratively improve our service based on their feedback. So we want to offer a huge thank you to our users, and we'll keep striving to deliver the high-quality proofreading and editing that you deserve!"
On the back of your responses so far, Proofed has already improved the customer experience. This has included adding new payment options, allowing for multiple documents to be uploaded at once, and introducing our Rapid Service. And if you keep leaving us helpful comments, we will keep getting better!
More Press Releases?
AI-generated content is here and it's revolutionizing content production. But getting that content reviewed and...
Trusted by thousands of leading
institutions and businesses