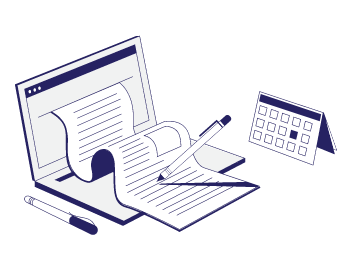 5 Tips on How to Achieve a Professional Tone in Business Writing
Good business writing should be professional in tone. But how can you achieve this in your formal business documents? We have five tips to help:
Tailor your language to the expected reader(s).
Follow your company's style guide if they have one.
Make sure to write with confidence and authority.
Be respectful and courteous in your choice of language.
Proofread your writing to ensure it is error free.
We will look in more detail at each of these tips below.
1. Who Is Your Reader?
Business writing should always be clear and concise. However, it should also reflect the needs of your reader(s). Factors to consider include:
Your relationship to the intended reader – Professional writing is typically very formal, but there may be room for variation depending on how well you know the person (or people) who will read your writing. When writing to a stranger or someone in a position of authority, stick to formal language.
The purpose of the document – Is the document purely factual? Or are you seeking to persuade the reader of something? The language you use may depend on what you're seeking to achieve.
The knowledge level of the reader(s) – The content and vocabulary of a professional document should be tailored to its audience. If you are discussing something technical, make sure to phrase it in a way that the reader(s) will understand. And don't use jargon unnecessarily.
Before writing, then, think about your reader and adapt your tone to match.
2. Check Your Company's Style Guide
Many organizations use a style guide or sheet to ensure consistency across documents of the same kind. This may cover a variety of guidelines, from spelling and punctuation to the branding and visual design of a document.
In terms of ensuring a professional tone, if your employer has a style guide or sheet, make sure to check it for advice on vocabulary and formality. If you follow these guidelines, you can be sure you're using the correct tone for the document.
3. Be Authoritative
To ensure a professional tone, you will want to come across as authoritative. A few things you can do to achieve this include:
Find this useful?
Subscribe to our newsletter and get writing tips from our editors straight to your inbox.
Use the standard terminology for your industry. This may include using some jargon or technical language if appropriate for the intended reader.
Don't overuse hedging terms, such as "seems," "tends" or "I believe."
Back up your arguments with data and cite your sources clearly.
Use the active voice where possible.
Use short, snappy sentences for emphasis.
Doing the above will help underline your expertise on the subject matter.
4. Be Respectful and Courteous
Professional writing should always be respectful and polite, especially when you're writing to someone you don't know well (or at all). Make sure to:
Use the correct greeting and sign off in formal letters and emails.
Refer to people using their official titles and full names.
Use gender-neutral language where appropriate (e.g., "chair" or "chairperson" instead of "chairman"). Be aware of other forms of biased language, too.
Avoid slang and other informal language that could seem overfamiliar or cause offence due to a misunderstanding.
Be sensitive to cultural differences if writing to or for people in other countries.
Focus on positives rather than negatives where possible.
This will ensure your writing is professional and inclusive.
5. Proofread Your Business Writing
Errors in writing can reduce clarity and suggest a lack of attention. This can undermine the professional tone of your work in other respects.
It is also easy to miss errors in your own work, making it a good idea to use a professional proofreading service. Give our free trial service a go and see how our expert business proofreaders can help with your professional writing.
More Writing Tips?
Whether you've heard of superlatives or not, you probably use them all the time without...
Trusted by thousands of leading
institutions and businesses