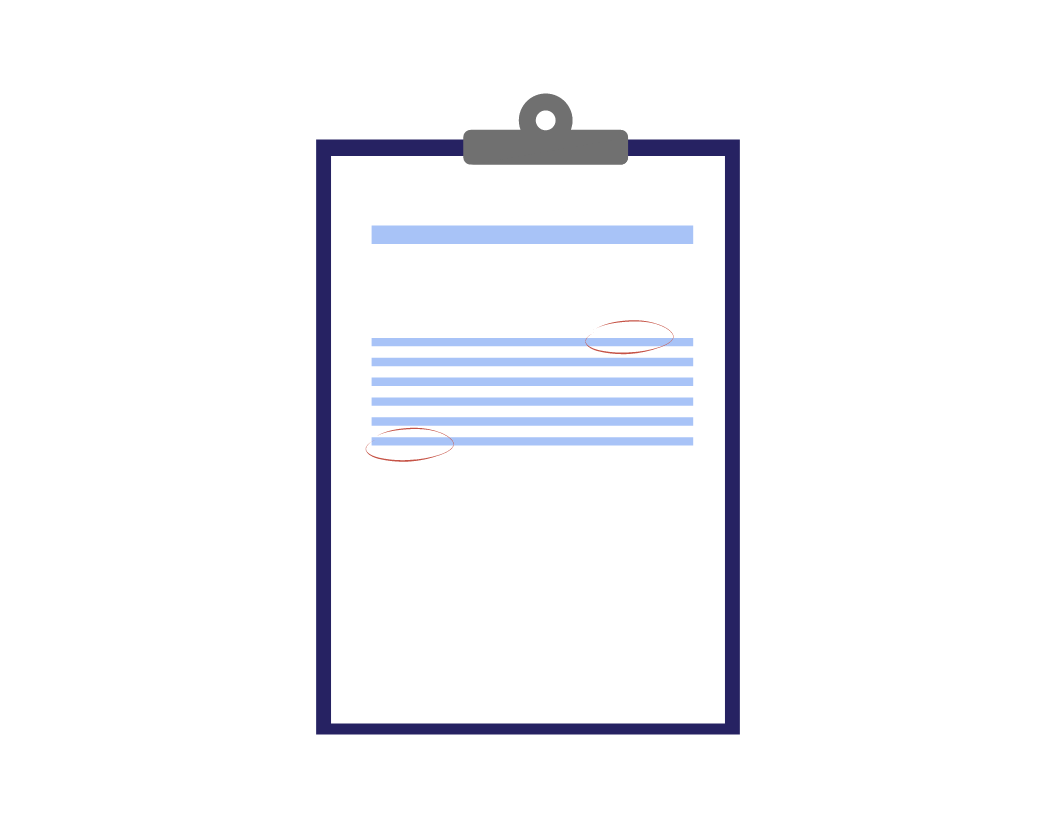 What Is Proofreading?
If you're asking yourself "What is proofreading?" then you are in the right place. This article breaks down what proofreading is and how it differs from editing, formatting, and revising.
Proofreading Explained
Proofreading is the final step in the writing process, meaning that when you begin to proofread, you are working on the final draft of a document. Think of it as the final polish on a document to make sure everything is clean, clear, and consistent.
Proofreading checks for the following:
● Grammar mistakes
● Spelling mistakes
● Punctuation mistakes
● Capitalization mistakes
● Formatting inconsistencies
● Other minor language mistakes or inconsistencies
Proofreading does not involve:
● Rewriting sentences
● Making substantive changes
● Formatting an entire document
● Changing the meaning of the text
● Adding new information
● Fact-checking
● Summarizing or paraphrasing parts of the text
Formatting, editing, and revising should have already been checked for, and corrected, in the previous stages of the writing process.
Why Is Proofreading Important?
Proofreading is important because it ensures that your document is error-free and of high quality. Having grammar or spelling mistakes and inconsistencies in any document reflects poorly on the writer. For example, if you are writing an essay for a class, you can expect to have a lower grade due to excessive mistakes. And if you are a business writing copy or content, grammar and spelling mistakes can drive away potential customers.
Overall, proofreading is extremely necessary for anyone who writes. If you struggle to proofread your writing, then check out our proofreading checklist to use as an at-home resource. However, if you need further help, then you might consider professional proofreading services from an experienced and qualified editor.
Proofreading vs. Formatting
Formatting involves the presentation or appearance of your document. Formatting can be as simple as having one-inch margins and double-spaced text or as complicated as applying special colors, margins, tables, charts, varying text, etc., to a catalog.
What's important to understand is that formatting and proofreading are different services. Proofreading may check the format of your document to ensure it is consistent, such as removing an extra line at the beginning of a page. But it does not include formatting an entire document from scratch. If you require formatting services, be sure to indicate that to your editor so they can charge you accordingly.
Examples of formatting include:
● Setting margins, line spacing, and paragraph spacing
Find this useful?
Subscribe to our newsletter and get writing tips from our editors straight to your inbox.
● Creating a dynamic list of contents, figures, and tables
● Adding page numbers
● Adding a cover page, declaration page, or acknowledgments page
● Inserting captions and descriptions for tables, charts, graphs, and figures
Proofreading vs. Editing
Editing is much more involved than proofreading. Changes are generally more substantive (substantive editing) or focused on the mechanical aspects of language (line and copy editing). Depending on your document and the quality of your writing, you will need different types of editing. For example, the first draft of a novel will most likely need substantive editing to check the document, looking at the structure, plot, and character development.
Additionally, it's important to note that some documents will require many rounds of editing. This could be due to the length of a document (e.g., novels or theses), the quality of writing, or the content.
Editing involves:
● Checking the structure and content of a document
● Making substantial changes to the text
● Checking mechanical aspects of writing
● Minor fact-checking
Keep in mind that every editing service will vary slightly as there are as many types of editing as there are types of writing. If you are looking for editing services, always ask your editor what they specifically cover in their editing process (e.g., not all editors will include fact-checking and you may need to pay extra for this service).
Proofreading vs. Revising
After you finish writing your document and have the first draft completed, revising is usually the next step. Think of revising as a total overhaul or dissection of your first draft.
Revising includes:
● Modifying/refining your arguments and ideas
● Filling in gaps (e.g., giving examples, data, and subpoints)
● Cutting out sections that don't add value to your document
● Moving paragraphs or sections to improve the flow
● Making sure you have sound arguments and sufficient support
Depending on the document, revising may be part of a substantive edit, where you work closely with an editor and discuss how the first draft could be improved (this is mainly for longer documents). However, revising and editing an essay for a literature class is a vastly different process as an essay is short and usually requires less work. Please keep this in mind and take into consideration the length of your document when determining if you need to revise or edit a first draft.
Conclusion
Proofreading is not editing, formatting, or revising. Proofreading only looks at, and corrects, superficial mistakes in the final draft of any document, such as grammar, spelling, and punctuation mistakes.
If you are looking for proofreading services, then look no further. Proofed is trusted by thousands of businesses and students who need help making their writing shine. Try our free trial today!
More Writing Tips?
Putting together a reference list is an important and necessary part of writing a paper,...
Trusted by thousands of leading
institutions and businesses