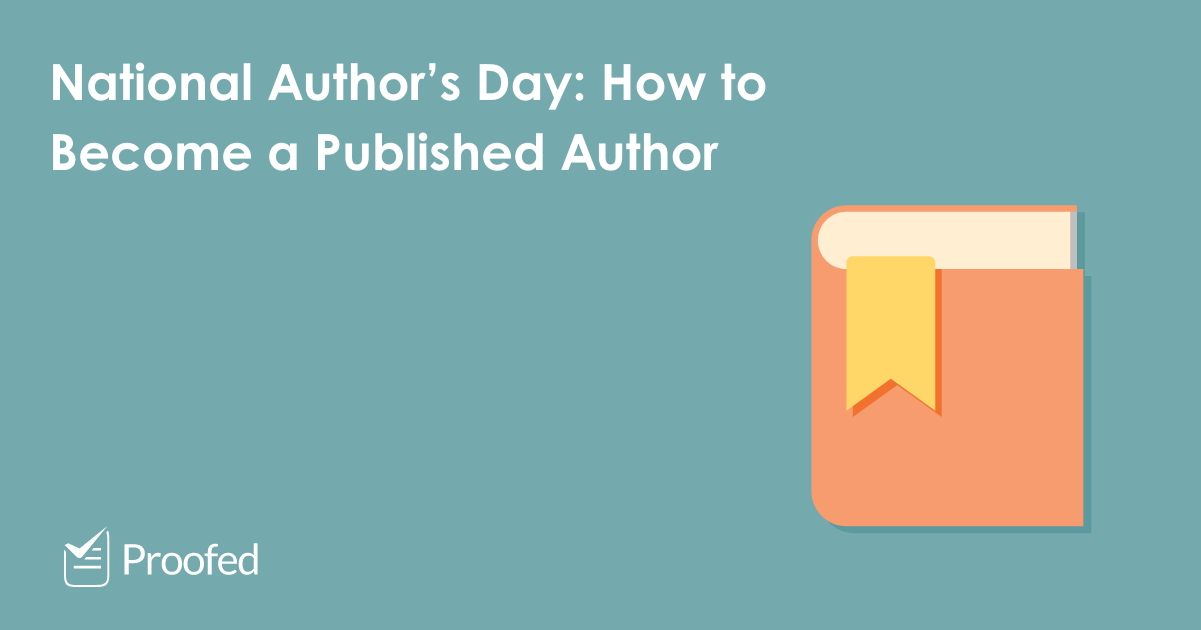 National Author's Day: 5 Tips for Becoming a Published Author
Today is National Author's Day, but how do you become a published author? The biggest step is coming up with a great story, of course! However, there are other things to keep in mind, including:
Looking for inspiration by reading other authors.
Writing at least a bit every day so you can find your authorial voice.
Networking with writers and publishing professionals.
Working out whether to submit your work to a publisher or self-publish.
Seeking feedback and editing your manuscript.
Read on for more on how to become a published author.
1. Read a Lot to Find Inspiration
Reading other authors is a great way to find inspiration. And if you want to become a published author, you probably read a lot anyway. But there is almost always room for more! For instance, you could:
Re-read some of your favorite books closely, making notes on what makes the writing appeal to you, how the author structures their story, and anything else that jumps out at you.
Look for work by authors you've never read before. If you're not sure where to start, ask friends for recommendations, look for recent award winners, or find authors who write in genres that interest you.
As well as looking to other works of fiction for inspiration, though, think about reading a book about writing. There are lots of guides to creative writing available, and they're a great way to pick up a few tips.
2. Practice Writing Every Day
Whether you're developing your voice or working on a masterpiece, writing every day is important. As such, try to make it part of your daily routine.
For new writers, focus on short stories and writing exercises. Doing a little bit of writing every day will help you develop a distinctive style, which will help your writing stand out once you move on to full-length novels. You can even submit short stories to a literary magazine for publication.
And if you're working on a bigger project, set a daily target for the number of words you write. They won't always be perfect as writing is rarely simple. But if you keep at it, you'll finish your manuscript before you know it!
If you're reading this on 1 November, moreover, why not join in with National Novel Writing Month (NaNoWriMo)? This is a project where people try to write the first draft of a novel in a single month by setting daily writing targets. It's therefore great for both developing your voice as an author and motivating you to get that manuscript written!
3. Network with Writers and Publishing Professionals
You might think of writing as a lonely job. But there's no reason to suffer alone! Connecting with other writers, such as by joining a writer's group, will give you a source of encouragement and constructive feedback.
You can also extend your writing network by attending literary events and conferences in your area. As well as writers, these will let you meet literary agents, publishers, editors, and other publishing professionals.
Find this useful?
Subscribe to our newsletter and get writing tips from our editors straight to your inbox.
This can be crucial as knowing people in the publishing industry is a great way of getting your foot in the door when you have a manuscript ready!
4. Traditional Publishing vs. Self-Publishing
There are two main methods authors use to get work published:
Traditional publishing means going through a publishing house. Typically, this requires you to have a literary agent, who will take your manuscript to publishers and secure a book deal. After this, the publisher will oversee the editing, design, distribution, and marketing of your book.
Self-publishing refers to publishing a book yourself, either via a print-on-demand service or as an ebook. you are responsible for the entire process, from drafting and editing through to distribution and marketing. It therefore takes a lot of work, but you're also in control of everything.
The key is deciding which route works for you. Traditionally, many authors have considered self-publishing a fallback if they can't find a publisher.
However, self-publishing is growing in popularity, and it can even provide a platform to get a book deal with traditional publishers.
For more on this subject, see our blog post on the topic.
5. Feedback and Editing
Anyone who wants to become a published author has to learn the value of editing. No book is finished after the first draft, so if you submit this to publishers (or publish it yourself), you'll likely be disappointed by the results.
Instead, once you are happy with your first draft, consider getting a manuscript critique. This is when you give your writing to a professional editor, who will point out the strengths and weaknesses in your story and offer invaluable insights on how to improve it. Or you can ask them to edit the manuscript itself. This is especially important if you're self-publishing, since you won't get help from a publisher with the editing process.
Alternatively, you can self-edit. If you do this, though, make sure to find a few people you trust and ask them for feedback. Based on this, you can go back over your manuscript and make changes to strengthen the story.
When you've finished redrafting, moreover, don't forget to proofread your manuscript before you submit to a literary agent or self-publish. This will ensure your writing is clear and professional. And with our expert proofreaders on hand to help, proofreading doesn't have to be a taxing process! Simply submit a free trial document today to find out more.
More Writing Tips?
In the grammar world, positioning is everything. The wrong word in the wrong place can change the...
Trusted by thousands of leading
institutions and businesses