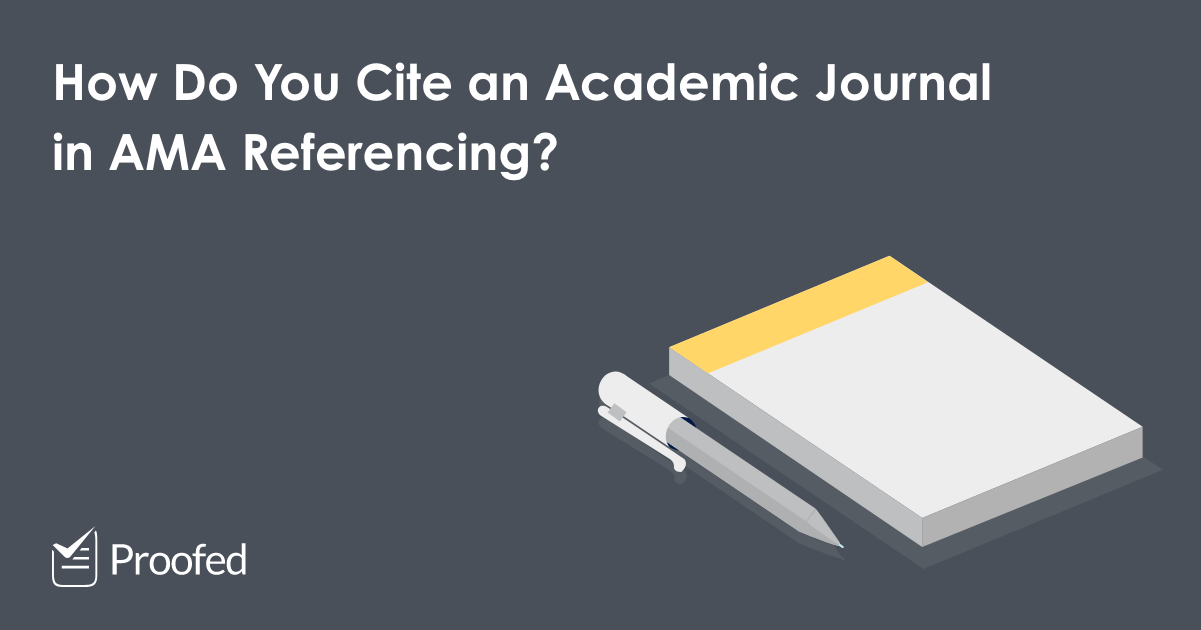 How to Cite a Journal Article in AMA Referencing
AMA referencing is widely used in medical journals. But how do you cite a journal article with this system? In this post, we look at referencing both print and online journal articles in the AMA style.
How to Cite a Journal Article in AMA Referencing
AMA referencing, as set out in the AMA Manual of Style, is a number–note system (otherwise known as Vancouver style). This means you cite sources with superscript numbers in the text, each of which points to a source in a numbered reference list at the end of your document.
To cite a journal article, then, we would add a superscript number as follows:
Paper cuts are a terrible scourge on society.1
You should number sources sequentially, starting with the first one you cite in your work. The "1" above, for instance, means that we're citing the first source in the reference list. You would then number the next source we cite "2," the third one "3," and so on. And if you need to cite a source again later, you simply use the same number as on the first time you cited it:
Paper cuts are a terrible scourge on society.1 Doctors have long sought a remedy, with many favoring sturdy gloves.2 Some also suggest dipping one's fingers in resin before handling paper.3 Ultimately, though, paper cuts are an unavoidable reality for many.1
To quote a journal article, you need to add page numbers in brackets:
According to Draper, paper cuts "rarely occur elsewhere on the body."2(p 102)
Here, we're citing page 102 of the second source in the reference list.
AMA Reference List: Print Journal Articles
In your reference list, the standard AMA format for a print journal article is:
Find this useful?
Subscribe to our newsletter and get writing tips from our editors straight to your inbox.
n. Author Name(s) and Initial(s). Article title. Abbreviated Journal Name. Year;Vol(Issue): complete page range.
Thus, the reference list entry for a print journal article would look like this:
1. Smith J. A latitudinal study of paper cut severity and frequency. Arch Environ Health. 2017;72(6):27-40.
Arch Environ Health here is short for Archives of Environmental Health. For the abbreviated journal names, use the official NLM abbreviations or find out more about how to abbreviate journal titles here.
AMA Reference List: Online Journal Articles
The reference list entry for an online journal article is the same as above, except you also need to provide either:
A URL and date of access
A stable DOI (i.e. a digital object identifier)
We can see the difference here in the examples below:
2. Murdoch A. Paper: The silent killer. Arch Environ Health. 2010; 10(4): 19-23. https://www.ehp.org/articles/2010/10-4-1923. Accessed 21 November 2019.
3. Draper P. Treatment of paper cuts in shared workspaces. Environ Health Perspect. 2003; 111(6): 102-121. doi:11.1481/ehp.111-b468a.
Hopefully, you now feel like you know how to cite a journal article correctly with AMA referencing. But if you would like an expert to check your work, too, we have proofreaders ready to help 24/7.
More Writing Tips?
Putting together a reference list is an important and necessary part of writing a paper,...
Trusted by thousands of leading
institutions and businesses