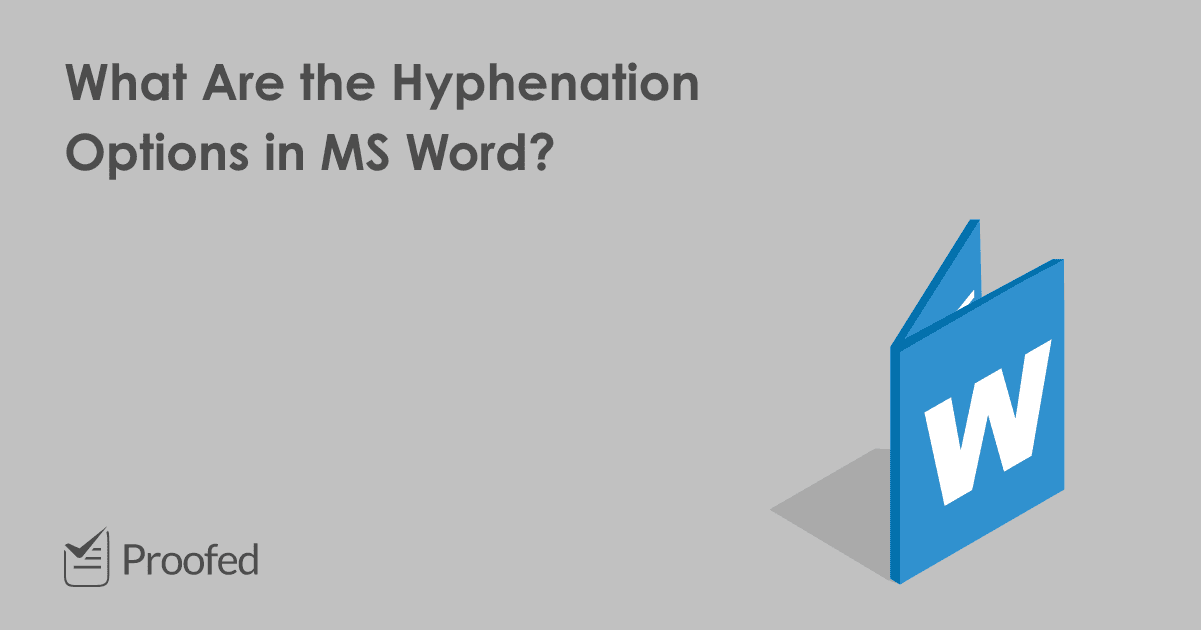 How and When to Use Hyphenation in Microsoft Word
In this post, we'll look at how (and when) to use the hyphenation options in Microsoft Word. These can be very useful for making text look neat on the page, especially if you're having trouble with the regular formatting options and justified text. Read on below to find out how this works.
What Is Hyphenation?
When we refer to "hyphenation in Microsoft Word," we mean something more than just using hyphenated words correctly in your writing. In this case, hyphenation is about how text looks on the page.
In particular, it helps you ensure that text is presented in neat, regular blocks. You would usually use justified text to achieve this. Sometimes, though, justifying text leaves you with too much space between words, especially when the final line is short, such as in the image below:

One way around this would be to edit the text. But if you don't want to change what you've written, you can switch on the hyphenation in Microsoft Word. This will add hyphens between syllables in longer words at the end of lines, fixing the problem caused by justifying the text:

If you need to do this in a document, check out our guide below.
Hyphenation Options in Microsoft Word for Windows
On a Windows machine, to switch on automatic hyphenation:
Go to the Layout tab on the main ribbon.
In the Page Setup section, click Hyphenation.
Select Automatic from the dropdown menu.

This will automatically apply hyphenation throughout the document.
Find this useful?
Subscribe to our newsletter and get writing tips from our editors straight to your inbox.
For more control over what is hyphenated, select Manual from the menu. Word will then scan the document for problem words. If it finds one, a new window will pop up, letting you select where to hyphenate it.
You can also select Hyphenation Options, where you can:
Select whether to hyphenate words written in ALL CAPS.
Limit the number of consecutive lines that end with a hyphen.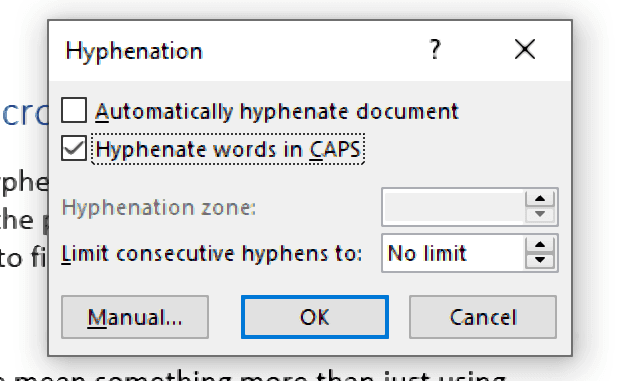 The Hyphenation zone option here sets the space between the last word on a line and the right margin. This does not work with the DOCX file format, though, so you will need to use the DOC format to adjust this.
Hyphenation Options in Microsoft Word for Mac
If you're using Microsoft Word for Mac, you'll need to:
Go to the Tools menu.
Select the Automatically hyphenate document check box.
Under Hyphenation zone, enter the space to leave between the last word and right margin (a larger hyphenation zone will mean fewer hyphens).
For the Limit consecutive hyphens to option, enter the maximum number of lines in a row to hyphenate.
Once you've done this, you should have a neatly formatted document. And as with Word for Windows, you can also select Manual if you want to apply hyphenation manually, checking each problem word in turn.
If Hyphenation Doesn't Work…
If nothing changes when you turn on hyphenation in a document, you may have to change the settings in the Paragraph dialog box. To do this:
Select the text you want to hyphenate.
Open the Paragraph dialog box (e.g., by clicking the small arrow in the bottom right of the Paragraph section of the Home tab).
Go to the Lines and Breaks tab.

Under Formatting exceptions, find Don't hyphenate. This stops text from being hyphenated. To make the hyphenation work, then, deselect it.
Click OK to save your settings.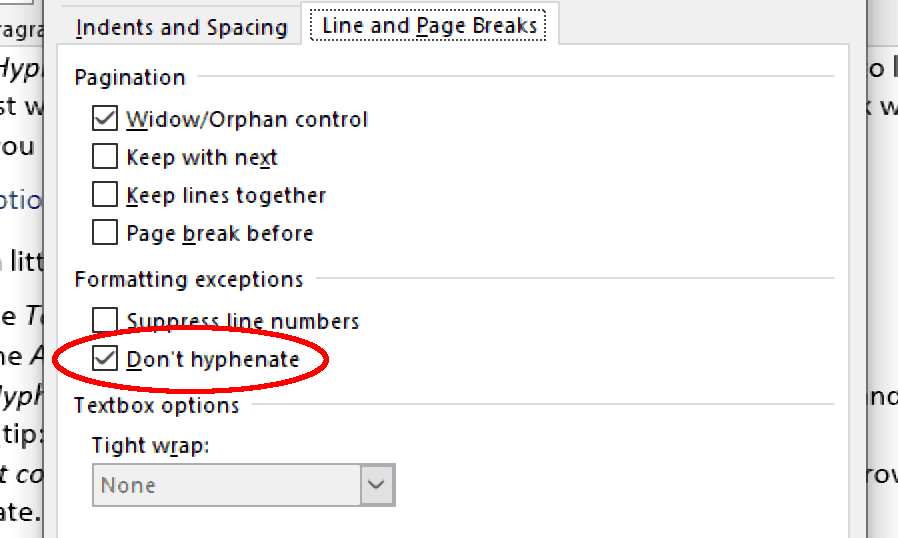 Once this setting it turned off, the hyphenation previously selected should be applied. Of course, you can also use the Don't hyphenate option to stop text in a document from being hyphenated if preferred.
Expert Proofreading Services
If you'd like any extra help making sure your writing is always clear, our proofreading services might be just what you need! Upload a sample document for free today to find out more.
More Writing Tips?
Among and between are both prepositions used to describe how objects, people, or things relate...
Trusted by thousands of leading
institutions and businesses