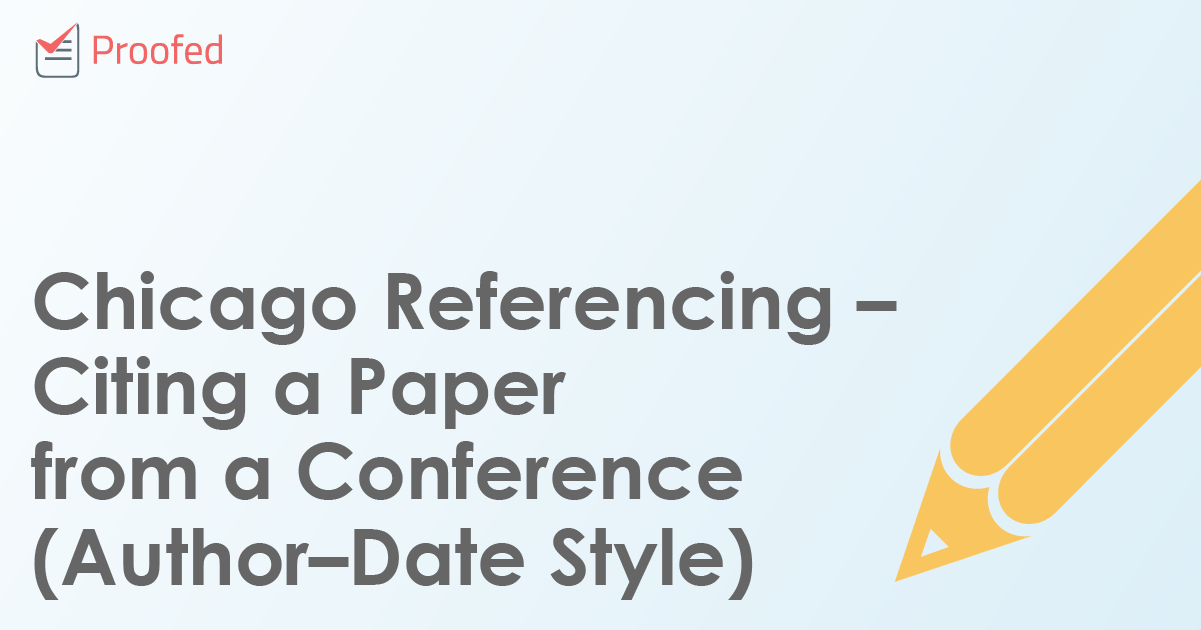 Chicago Referencing – Citing a Paper from a Conference (Author–Date Style)
The collected papers from an academic conference are often published as "conference proceedings." But how do you cite a paper from a conference in an essay or dissertation? In this post, we look at doing exactly that using Chicago author–date style referencing.
In-Text Citations
To cite a paper from a conference, give the author's surname and the year of publication in parentheses at the end of the relevant passage:
Gin production increased between 1688 and 1721 (Gordon 2004).
If you are quoting a conference paper, moreover, include a page number after a comma:
This led to a "state of moral panic" (Hendrick 1990, 108).
If the author is already named in the text, there is no need to repeat this information in the citation. Instead, give the year of publication (and any page numbers) immediately after the author's surname.
Reference List: Published Paper from Proceedings
If you have cited a paper taken from published proceedings, use the following format in the reference list at the end of your document:
Surname, First Name. Year of Publication. "Title of Paper." In Title of Published Proceedings, edited by Editor Name(s), page numbers. City of Publication: Publisher.
Find this useful?
Subscribe to our newsletter and get writing tips from our editors straight to your inbox.
In practice, then, the reference list entry for a published conference paper would look like this:
Gordon, Alexander. 2004. "Reexamining the Gin Craze." In Proceedings of the Annual Conference of Historical Beverages, edited by Franciscus Sylvius, 24-31. New York: NYU Press.
Reference List: Unpublished Paper from a Conference
Occasionally, you may want to cite an unpublished conference paper. This will typically be a paper you saw presented in person or that the author has made available online, but that has not been published in any proceedings. The format to use in your reference list in this case is:
Surname, First Name. Year of Presentation. "Title of Paper." Presented at Name, Location and Date of Conference.
For example, we could present an unpublished conference paper as follows:
Hendrick, William. 1990. "Legal Responses to the London Gin Craze." Presented at The Annual Conference of Historical Beverages, New York University, New York, 24-27 June 1990.
More Writing Tips?
For many students and their families, autumn officially starts once school is back in session....
Trusted by thousands of leading
institutions and businesses