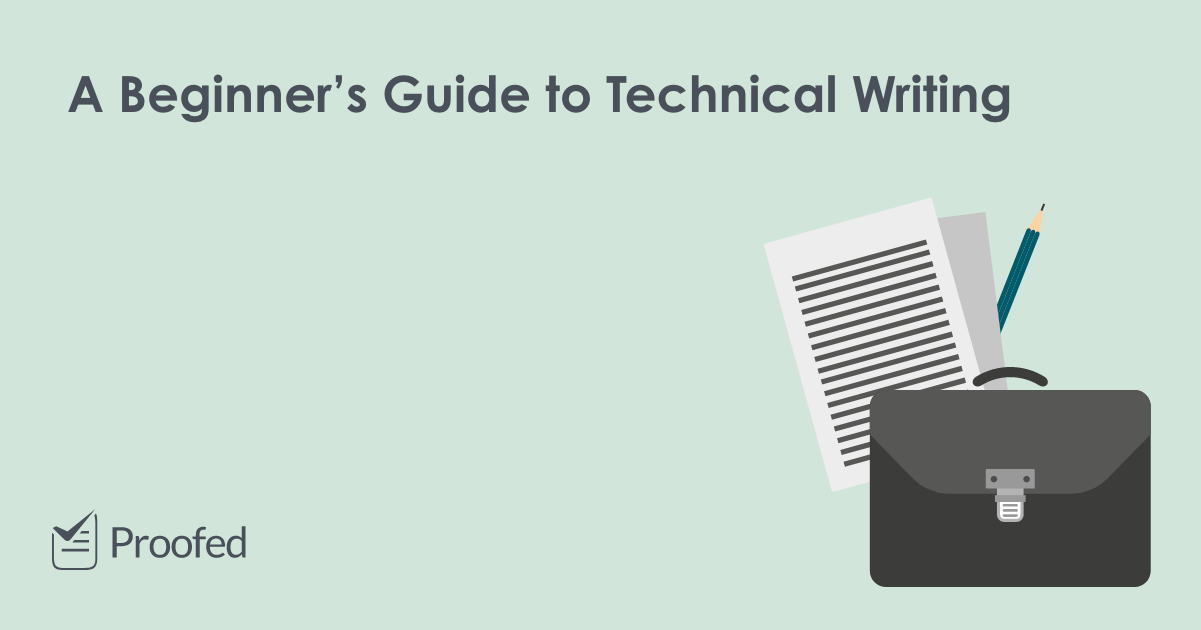 A Beginner's Guide to Technical Writing
Almost every industry uses technical documents, and technical authors play a vital role in many businesses. So what exactly is technical writing? And what does it involve? In this post, we look at the basics.
What Is Technical Writing?
Technical writing is about documenting and explaining technical issues. It is most often associated with technology and computing, but businesses of all kinds rely on technical writing, which can include:
Instructional manuals and user guides
Policy and process manuals
White papers, case studies and technical reports
Memos and other internal communications
Technical writing can thus cover anything from a manual on how to set up your new home computer to a 200-page report on the future of laser technology in medical settings. And the exact approach you take to writing a technical document will depend on the circumstances and intended audience.
Nevertheless, we do have a few general tips for new technical writers.
5 Tips for Better Technical Writing
There is no one-size-fits-all approach to good technical writing. However, there are various factors that apply to all technical documents, including the intended audience, the subject matter,  the writing style, the document design, and how easy it is to read. Check out the following tips for some helpful advice.
1. Know Your Audience
Technical writers often deal with complex issues. And if you're writing for an audience of experts – other qualified professionals in the same field as you, for example – that won't be a major problem. But if you're writing for members of the public or other non-experts, clarity and simplicity are crucial.
An engineer, for example, may need to know every detail about how a heating system works in case it breaks. But someone who uses that heating system may only need to know how to turn it on, change the temperatures, etc.
Consequently, the approach you take to writing up technical documentation for each person would differ. So before you begin drafting, make sure to research the intended audience and what they will need to know.
2. Know Your Subject Matter
Research skills are vital for any technical writer. After all, you need to come across as an expert on whatever you're writing about, and the only way you can do this is to research the topic first.
When preparing a document, then, make sure to collect as much data as possible first. This can be primary (e.g., internal research) or secondary (e.g., other white papers and academic research). And if you're not already an expert in the subject area, make sure to speak to someone who knows it well.
3. Use an Appropriate Writing Style
While its complexity may vary, most technical writing is:
Find this useful?
Subscribe to our newsletter and get writing tips from our editors straight to your inbox.
Dry, formal and authoritative
Impersonal (typically third person), but addressed to the reader
As straightforward as possible, getting straight to the point
To illustrate, we could imagine writing a warning in a manual like this:
The wires in this equipment carry electricity at a very high voltage, which could result in a number of calamitous scenarios if tampered with, including significant injury or death.
But, ideally, we would want to make the same point more directly:
Danger! High voltage. Risk of injury or death.
The point is to give the reader the information they need as directly as possible. Beyond that, the main stylistic requirement is to check whether your employer/client uses a style guide. This should give you all the basic information about preferred spellings, punctuation, vocabulary, etc.
4. Document Design
As a technical writer, you may be responsible for some elements of document design, including:
Use of graphs, tables, images and charts as required
Choice of the layout of text on the page
Use of headings to help readers navigate the document
Inclusion of a table of contents or index
Alternatively, you may work with a professional designer on these things. In either case, though, it is vital for technical documentation to be well formatted so that it is easy to use.
5. Proofreading Technical Writing
Clarity is vital in technical writing, as an error in the text may affect its usability. Typos will also undermine the authority of a technical document, so you need to make sure they are error free.
Of course, the best way to do this is to have technical documents proofread by the experts. At Proofed, we have editors with backgrounds in a range of industries and we always strive to match your document with the most qualified individual. Just let us know your requirements.
More Writing Tips?
Putting together a reference list is an important and necessary part of writing a paper,...
Trusted by thousands of leading
institutions and businesses