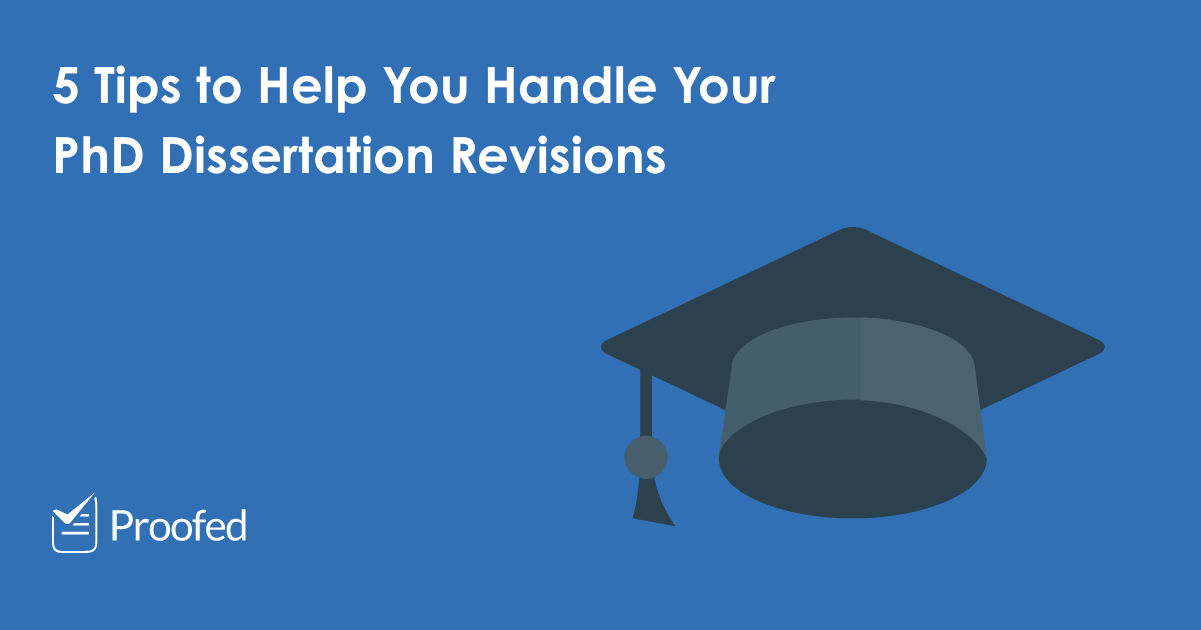 5 Tips to Help You Handle Your PhD Dissertation Revisions
You have passed your doctoral defense! Well done! All you have to do now is make a few changes based on your examiners' feedback. But how should you do this? Our tips for handling dissertation revisions include:
Read the examiners' report to gain a sense of what you need to do.
Take a break to clear your head before getting stuck in.
Plan your changes using a roadmap.
Keep a record of the changes you make and your reasons for making them, focusing on the issues the examiners identified in their report.
Proofread your revisions before submitting them.
For more on all the above, read on below.
1. Read the Examiners' Report
When you have it, read through the examiners' report a couple of times. And try not to freak out! We know it can feel like some unthinking monster is tearing your precious dissertation apart.
But critique is part of academic life. And all the feedback in the report should help you make your dissertation stronger.
So instead of worrying about any criticism, make some initial notes about the changes the examiners want you to make. This will give you a sense of the work required and the strengths and weaknesses of your dissertation.
2. Take a Break
Once you've read the examiners' feedback, it's time to… take a break.
Try to forget about the examiners' report for a day or two. Instead, do something that you haven't had time to do while working on your dissertation. Or just get some well-deserved rest.
The break will allow you to return to your dissertation feeling refreshed and better equipped to make the final corrections.
 3. Plan Your Changes Using a Roadmap
Before setting to work on your revisions, you'll need to plan the changes you will make. And the first step in this is re-reading your dissertation, paying close attention to the passages your examiners highlighted.
You'll then have a clearer sense of how your argument works as a whole, and how the revisions will fit within the overall dissertation.
Next, create a "roadmap" for your revisions by creating a four-column spreadsheet or table and fill in the columns as follows:
Column 1 – Note where you need to make a change.
Column 2 – List each issue that your examiners highlighted. If relevant, you might also note the examiner who recommended the change.
Column 3 – Note how you will respond to each issue.
Column 4 – Assign a priority to each change (e.g., major revision, minor revision). This will help you plan your dissertation corrections.
You can see an example of a table with revisions below.
| | | | |
| --- | --- | --- | --- |
| Location | Suggested Revision | Revision Notes | Type |
| p. 12–14 | The literature review has missed an important article (see Jones et al., 2017, Journal of Paranormal Investigations, vol 10, no. 1). | Check this. Already discussed a 2019 journal article by Jones. | Major revision |
| p. 41 | Further discussion is required on the meaning of "suspicious behavior." |  Find sources for definition of "suspicious behavior" in section 3.4. | Major revision |
| p. 68 | The axes in Figure 5.1 have not been correctly labelled. | Make corrections in line with APA conventions. | Minor revision |
| p. 112 | Incomplete references for Danielson (2014) and Esquith et al. (1998). | Check sources and correct references. | Minor revision |
In addition, while you might spot other areas of your work you could polish while planning the corrections, focus first on what the examiners have asked you to do. You don't want to create too much extra work for yourself!
Find this useful?
Subscribe to our newsletter and get writing tips from our editors straight to your inbox.
4. Keep a Record of the Changes You Make
Depending on your college, you may be asked to submit a report or cover letter with your dissertation revisions. Typically, this is where you should summarize the changes you made and explain why you made them.
In most cases, this should simply involve working your way through each of the examiners' suggestions and stating how your revisions have addressed them. You can even use your roadmap of corrections as the basis for this.
But what if you disagree with one of the examiners' suggestions? In this case, while you are not obliged to make the change, you will need to justify your decision. To do this, give a polite, detailed argument, referring to both your own dissertation and the wider literature as required.
Remember, though, that examiners don't suggest changes without reason! Thus, even if you disagree with their comments, you may want to make revisions to clarify whichever part of your argument they misunderstood.
5. Proofread Your Dissertation Revisions
Before you submit your revisions, make sure to proofread them. You don't want to introduce new typos if you've already taken the time to make sure the original dissertation was error free. And if you would like any extra help checking for typos, or any other aspect of your revisions, our professional proofreading service is available whenever you need it.
We hope you've found these tips useful. For more information about writing a dissertation, check out our full dissertation writing guide.
More Writing Tips?
If you're a writer, then you know the hard work and research it takes to...
Trusted by thousands of leading
institutions and businesses