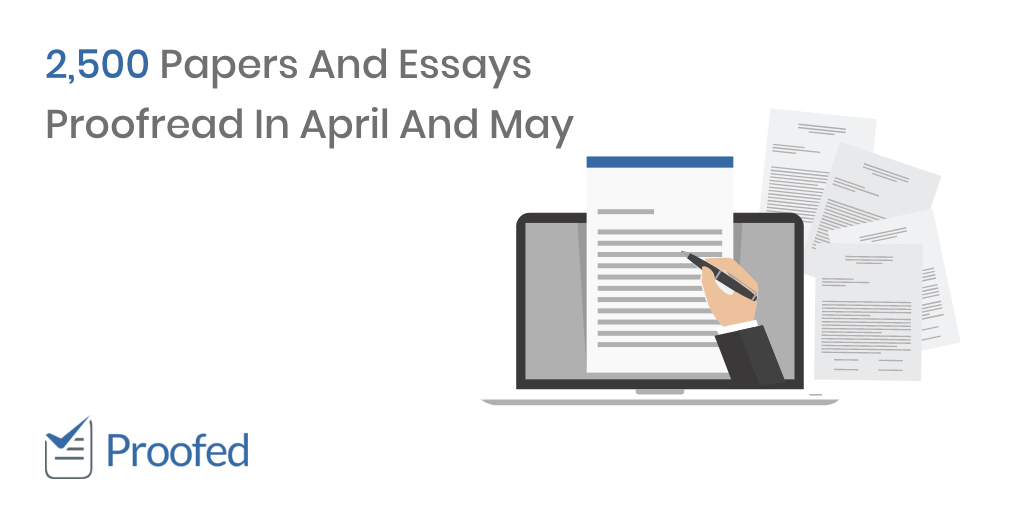 2,500 Papers And Essays Proofread In April And May
We are the academic proofreading specialists.
April and May can be busy months for students and proofreaders. Across our US, UK, and Australian sites, for instance, we've checked more than 2,500 academic papers and essays in the last two months. This equals roughly 7.5 million words (which would be way over the word limit for even the longest thesis, no matter your area of study).
Academic proofreading is core to Proofed's business and we are dedicated to helping students express themselves clearly. Our reputation for excellent academic proofreading is founded on a number of factors, including:
Hiring proofreaders with strong degrees, including PhD holders.
Having a team with specialists from many subject areas.
An unbeatable understanding of academic writing.
Extensive experience working with students and academics.
A focus on academic writing and referencing.
Find this useful?
Subscribe to our newsletter and get writing tips from our editors straight to your inbox.
We are thus trusted by students, researchers, and lecturers alike. And our specialist student proofreading service is designed to abide by college plagiarism guidelines. This means that we'll enhance your writing without changing the substance of what you're saying. So students can use our service with confidence.
Kiran Chauhan, Proofed's Co-Founder and COO, says he is "thrilled to have so many student customers trust us with their proofreading. Students take their work more seriously now than ever before. And they come to us for proofreading because they know that we take their writing seriously, too. Nothing is more important to us than helping our student customers fulfill their potential. And we will continue helping them to achieve the results they deserve."
Proofed also offers services aimed at researchers and professionals. As a result, we can continue supporting today's undergraduates throughout their academic careers and beyond.
More Press Releases?
AI-generated content is here and it's revolutionizing content production. But getting that content reviewed and...
Trusted by thousands of leading
institutions and businesses